Pastor's Notes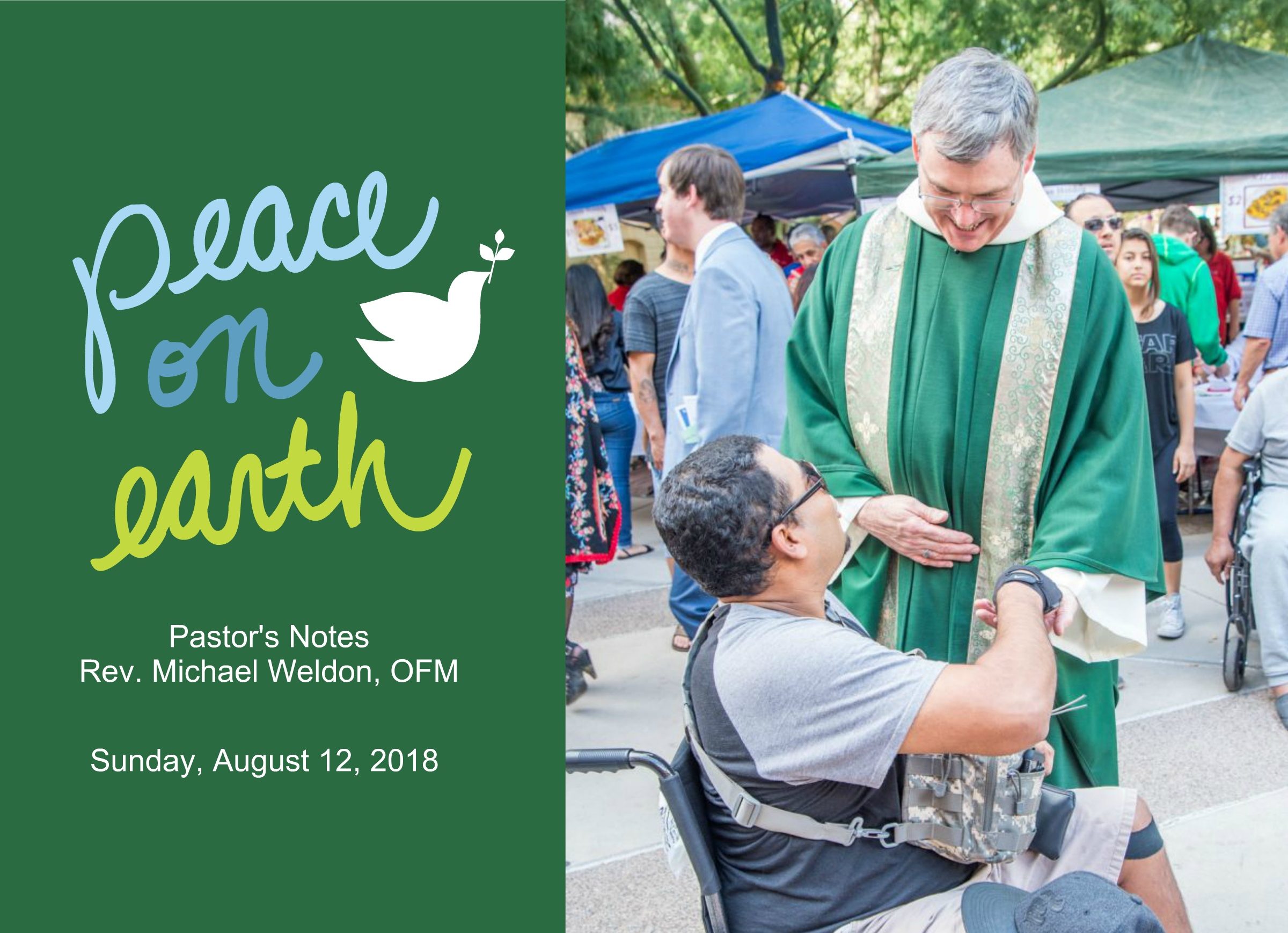 Back from vacation and friar meetings in California… and looking at the August heat and the coming September calendar… I want vacation again.  I sound like the complaining people of Israel in the past weeks readings from the Book of Exodus.   St. Mary's has had a slow, beautiful summer.  With the Feast of the Portiuncula last weekend, I have completed my forth year as rector and pastor.  It has been an adventure.   I am so grateful to you all for teaching me the traditions of this lovely parish and being patient as I learned your names and histories.
"After the heat breaks…." is an interesting "intro" to this weekend's readings.   Sometimes the burdens of life and the constant barrage of bad news from the media can bring us to some "black moods." That is what the Irish called them.  Elijah, in the weekend's first reading, had faced all he could handle.  Despite being a prophet, he was caught in a tangle of competing gods and political struggles.  Finally, his life was threatened.  So he hides out in the hill country and prayed for death.  He saw himself as a big failure,  "no better than my ancestors."   Clearly depressed (and a bit dramatic) , Elijah called for death to relieve him of his burdens.
God would not have it.  Elijah had exhausted himself trying to bring the people back to their senses and their God. As he slept, an angel presented him with a hearth cake and water: "Get up and eat."  Elijah did just that, and returned to bed like we often do.  Later, the angel came again: "Get up and eat, otherwise the journey will be too long for you."  The food and drink God provided set our hero on a new course. The special food strengthened him for the difficult tasks ahead.  For a while just getting out of bed was all the energy he could muster.  Slowly he set off for Mount Horeb and a new adventure.
John's Gospel for the weekend speaks of some hungry crowds who had been following Jesus for days.   Drawn to him by the healings and upbeat message, their mood turned dark when he claimed to be the bread of life.  How could this Jesus, the son of Joseph be the bread sent by God, especially when they had known his family for years?
This weekend honors St. Clare of Assisi, the cofounder of the Franciscan Movement.  Her life and passion for the privilege of poverty was bread "…for the life of the world." The Master offered his own self as food for the journey of discipleship – "divine nourishment " to carry them from entropy and despair to a new life in God."
Many in Jesus's day found this hard to accept.  Some stopped following him.  It was only after Jesus' Last Supper and his death and resurrection that his followers finally  "got it."   They would find in Jesus their food for their journey, the "living bread that comes down from heaven."   Each time we gather for Eucharist, we are fed by the word of God — in the Scriptures, in the bread and wine of the Mass…and  in the community of other disciples.  A little hearth cake and water brought Elijah around and set him on a new path with God.  The living Bread from heaven will feed us as well and strengthen us to face the difficulties of our own lives, heal our black moods and make us into a hope that will feed others.
A gentle week,
Fr. Michael Weldon, OFM
Gratitude to Deacon Ross Beaudoin from Celebration for use of some of his reflections this weekend.