Via Assisi Gift Shop
Friends, Visitors and Parishioners- As you know CoVid-19 is running rampant throughout the United States and most of the world. The church in its wisdom has closed the gift shop, has asked volunteers/staff to follow caution and stay home.
This does not mean that Via Assisi is not open for sales! I have posted some items available for purchase and shipment. In most cases the items will ship priority mail through our US Post Office. Please allow 24-48 hours for process.
We are running with a skeleton crew who is maintaining most of our essential services for you. Please go to our website home page to stay current on information as we get it. The Friars are continuing to stream live mass we encourage you to log in!
Via Assisi is proud to Support Local Artists:
Our mission is to bring our guests quality religious items for every budget as well as those "one of a kind" gems that are created by Artists who reside and create in Arizona! Via Assisi is always looking to partner with local artists. If you are interested in displaying and selling your work at Via Assisi please submit up to five (5) jpgs of current work, price points, a short bio & 1-2 page resume. Submissions are accepted online only at smoreno@smbphx.org Accepted artists will be notified by email.
Local Artist: Martin Moreno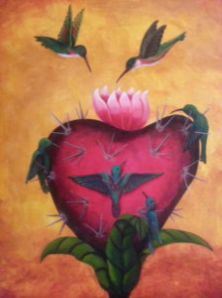 We are extremely proud to have Martin Moreno (2011 AZ Artist of the Year & current Valley Light Rail Artist) at Via Assisi. His work on canvas and one of a kind prints are sure to please our guests.
Local Artist: Reggie Casillas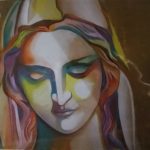 Reggie Casillas is a born & bred Phoenician. His talent in creating beautiful one of a kind paintings of the Mother Mary and our beautiful Basilica are just some of the work we carry.
Reggie's work can be seen in murals throughout Maricopa County and his own neighborhood where he has held community meetings with his neighbors and business community to bring beauty to his downtown Buckeye neighborhood. Commissions are accepted
Local Artist: Sue Messmer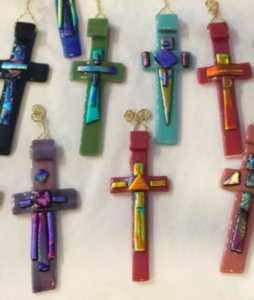 Sue Messner continues to amaze with her one of a kind creations! Ms. Messmer has been gracing the walls of Via Assisi for several years. Her crosses radiantly infused with colorful glass draws our visitors with their brilliant colors and stunning designs. We invite you to come in and browse our selection!
Local Artist: Gloria Martinez-Granados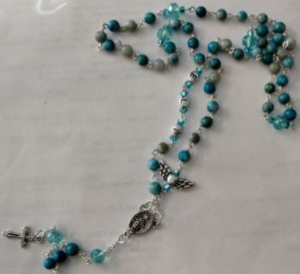 Jewelry and Rosaries handcrafted by "Glorious Craft" with a passion for beads & style!
Gloria has been creating one of a kind jewelry pieces since attending South Mountain High School. It wasn't until she decided to pursue a higher degree that she found that her "status" made her ineligible to apply for Federal Aid. She then realized the only way to reach her dreams was to make it happen on her own. She began designing rosaries and religious items and selling at the Basilica. She also applied for and received scholarships due to her academic success! Gloria recently graduated with a Bachelor's in Art and a GPA of 4.0!! Rosaries can be personalized, come in to find out more.
Workshops:
Via Assisi not only supports local artists in our gift shop, we also strive to bring you workshops that will inspire your growth in Christ.
During the month of March 2020 we will be hosting Pamela Enriquez-Counts from New Mexico who will be demonstrating her one-of-a-kind "foil inspired" earrings! Please check back for date, time and cost!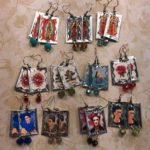 My duties to the parishioner's and community who visit our parish, is not only to bring you a Gift Shop filled with one of a kind items; it is also my goal to bring you new and exciting ways to explore your walk with Christ through our faith based workshops. Evangelization begins with Engagement.
If you have suggestions for workshops or would like to be considered as an instructor in the coming year, please email me at smoreno@smbphx.org I welcome your ideas!
Feature Reads:
Via Assisi has many books for sale, come browse our selection as always we are happy to special order! This month I have selected the following books as my "featured reads":
Hope in Numbers / Written by Gordon Wickert
Ten Dates Every Catholic Should Know / Written by Diane Moczar
"ASK" You Said / Written by Michael Holsten
Hope in Numbers and "ASK" You Said were written by local authors the proceeds from these books have been donated to St. Mary's Basilica programs. Thank you Mr. Santor (for Hope) and Mr. Holsten (for "ASK").
Wish List:
Being an extremely small shop with a budget to match! There are often things that we find we need to make your shopping experience a much better one.
Lighting – donation and/or installation of spot lights in ceiling to illuminate items.
Donation of off white paint for interior of store.
Volunteers needed as cashiers and/or assistants to manager, training provided.
Thank you so much for your patronage. We at Via Assisi appreciates you.
Hours of Operation:
Monday & Sunday
TEMPORARILY CLOSED

Via Assisi Gift Shop Location:
St. Mary's Basilica
(Street Level facing Monroe)
231 N 3rd Street
Phoenix, AZ 85004
For More Information:
Via Assisi Manager / Artist Ministry
Sylvia Hernandez-Moreno
Phone: 602-271-0046
Email: smoreno@smbphx.org