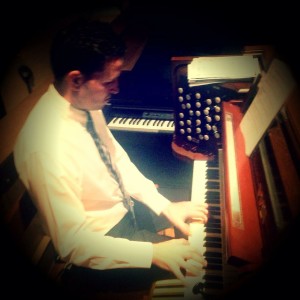 The Constitution on the Sacred Liturgy of the Second Vatican Council states that, "In the Latin Church the pipe organ is to be held in high esteem, for it is the traditional musical instrument which adds a wonderful splendor to the Church's ceremonies and powerfully lifts up man's mind to God and to higher things." (Sacrosanctum Concilium Art. 120)
Saint Mary's Basilica houses a very fine pipe organ built by the Schantz Organ Company. The organ consists of twenty-six ranks of pipes and was installed in 2012, following a major fundraising project to replace the temporary electronic organ which had been in place since the demise of the original 1918 Estey pipe organ in the mid 1980s.
Our organ is much sought after by visiting organists and recitalists. Its principal function, however, is to enrich the sacred liturgy and to support the assembly in praise. The organ, therefore, plays a central role in all of the Basilica's services in supporting the singing, accompanying the choir and providing sacred repertoire and liturgical improvisation. The instrument can be heard on weekdays at our 12.05 PM Mass and at all our weekend liturgies.
The organ's specifications are as follows:
GREAT (Manual I, expressive)
16′ Lieblich Gedeckt (73)
8′ Open Diapason
8′ Harmonic Flute (notes 1–12 from Ged.) 8′ Gedeckt (ext)
4′ Octave
4′ Harmonic Flute
2′ Fifteenth
IV Mixture
8′ Clarinet (Prep)
8′ Trompeta de Papa (Prep)
Tremulant
G/G 16,Off,4 S/G 16,8,4 MIDI on Gt
SWELL (Manual II, expressive)
8′ Chimney Flute 8′ Salicional
8′ Celeste (GG) 4′ Principal
4′ Open Flute 22⁄3′ Nazard
2′ Octavin 13⁄5′ Tierce
IV Plein Jeu 16′ Bassoon 8′ Trumpet
4′ Oboe Tremulant
S/S 16,Off,4 G/S 8
MIDI on Sw
PEDAL (unenclosed)
32′ Resultant
16′ Subbass
16′ Lieblich Gedeckt (Gt)
8′ Octavebass
8′ Bourdon (from 16 Subbass and 4 Flute) 8′ Lieblich Gedeckt (Sw)
4′ Choralbass (ext)
4′ Flute
16′ Double Trumpet (Sw) 16′ Bassoon (Sw)
8′ Trumpet (Sw) 4′ Oboe (Sw)
G/P 8,4 S/P 8,4 MIDI on Pd
Solid–State capture combination action with 255 levels of memory
12 General pistons (thumb and toe)
6 Great thumb pistons
6 Swell thumb pistons
6 Pedal toe pistons
General Cancel thumb piston
Great to Pedal reversible (thumb and toe) Swell to Pedal reversible (thumb and toe) Swell to Great thumb reversible Sforzando reversible (thumb and toe) Setter thumb piston
Programmable Crescendo (1 xed setting, 3 adjustable settings)
Nave Expression Shades Off (tilting tablet)
Transposer