Franciscan Young Adults (YouFra)
Our Young Adult Ministry is called YouFra, which is an inverted acronym for Franciscan Young Adults.  YouFra is a fellowship of young people who feel called by the Holy Spirit to make, in fraternity, an experience of Christian life, in the light of the message of St. Francis of Assisi, and to deepen their understanding of their personal vocation.  Our outreach is directed towards college students and young adults.  Young adulthood refers to people in their late teens, twenties, and thirties; single, married, divorced, or widowed; and with or without children.
Upcoming Events:  (Fall 2019)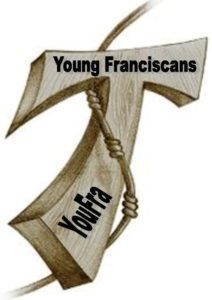 No Session on Wednesday, October 2, 2019 – Canceled for Transitus of St. Francis of Assisi.
Transitus of St. Francis of Assisi
From the earliest days of the Franciscan Order, the followers of St. Francis have gathered on the anniversary of his death to celebrate his transitus, that is, St. Francis' passage from earthly life into everlasting life.  It's a reminder that our earthly goal is to be united one day with God in heaven.

Date: Thursday, October 3, 2019
Time:  6:30 to 8:00 PM
Location: St. Mary's Social Hall
For More Information:
YouFra Spiritual Assistant &
Director of Faith Development
Br. Scott Slattum, OFM
Phone:  602-354-2082
Email:  sslattum@smbphx.org

YouFra is an official Arizona State University Student Organization.  To be placed on the YouFra Membership Roster please email Br. Scott with your name, address, phone number and email address.  You will receive a weekly text message of upcoming events.