Pastor's Notes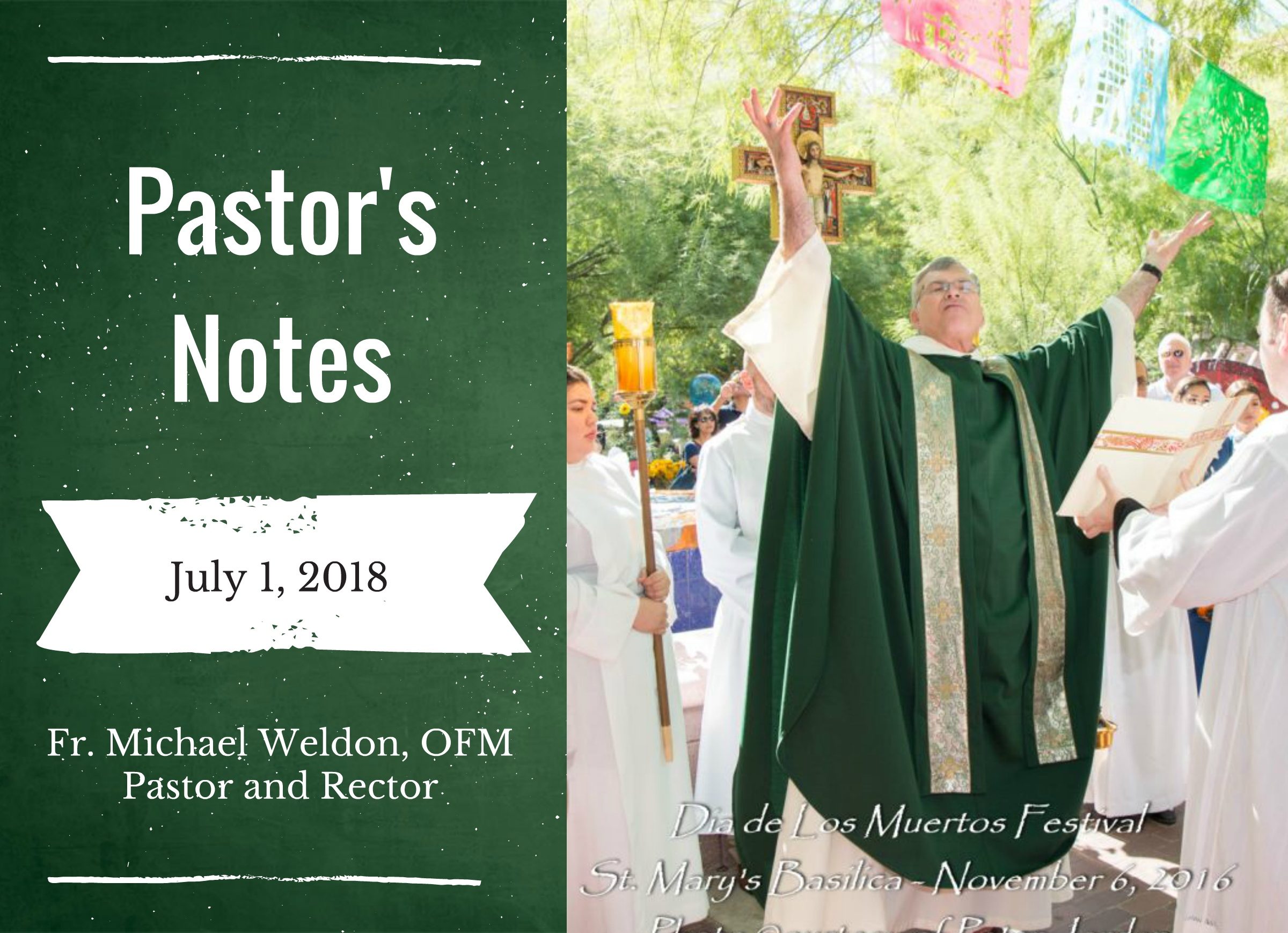 At an Episode of Firing Line in 1989, William Buckley, Jr. hosted a conversation between Edward Castillo, a Cuahlilla-Luiseño Professor of Native American Studies at Sonoma State University and Fr. Noel Moholy, vice postulator for the sainthood cause of Fr. Junipero Serra.   It was an ugly conversation.  Castillo was one those who participated in the Indian occupation of Alcatraz Island in 1969.  The exchange was an impasse.  Buckley told him it was no business of his who the church canonizes. Friar Noel watched the exchange and said with apprehension and bemusement, "Now the question before the house is not canonizing the mission system. The question is about this individual: what kind of life did he lead?" (Gregory Orfalea, "Hungry for Souls,"Commonweal (142, no. 14 September 11-2015)16-21)
That is our question too. What kind of life will we lead? WHAT KIND OF CHURCH WILL WE BUILD NOW IN AMERICA'S SOUTHWEST?  What dialogues can be opened in his name now about faith and the future of the world?  A bishop in Indonesia was asked at his installation a few years back, what the primary task of the church was. He answered. "…save the planet."  What is it we evangelize for?  Our Friar Fr. Kenan Osborne defined the Franciscan play on Gospel Evangelization as "Humanizing after the pattern of Jesus." Making the world more human.  The church doesn't have a mission.   That mission has a church.
Fr. Serra's canonization in 2015 was a unique act of the Church. Many scholars point it out as "infallible."  The Pope as his formal declaration in the ceremony says, 1. The soul is in Heaven.   2. His name can be added now to the Litany of the Saints.  3. His life now is available for public veneration.   He is an icon… We can say that about Fray Junipero, those of us who know him.  His life now leads us to God. " The Serra Effect" is a call to dialogue about our mission, a call to retrieve what was lost.  We now must rediscover the spirituality and praxis of the indigenous communities Serra evangelized … and weave them anew into the resources to save the planet.
That, in fact, is the goal and mission of every follower of Jesus: Heaven, our name entered on the litany of saints and to lead others to God. We have a West Coast intercessor, an old friend to assist us in what he called   "el camino real" —— that very royal journey.
A gentle week,
Fr. Michael Weldon, OFM