Pastor's Notes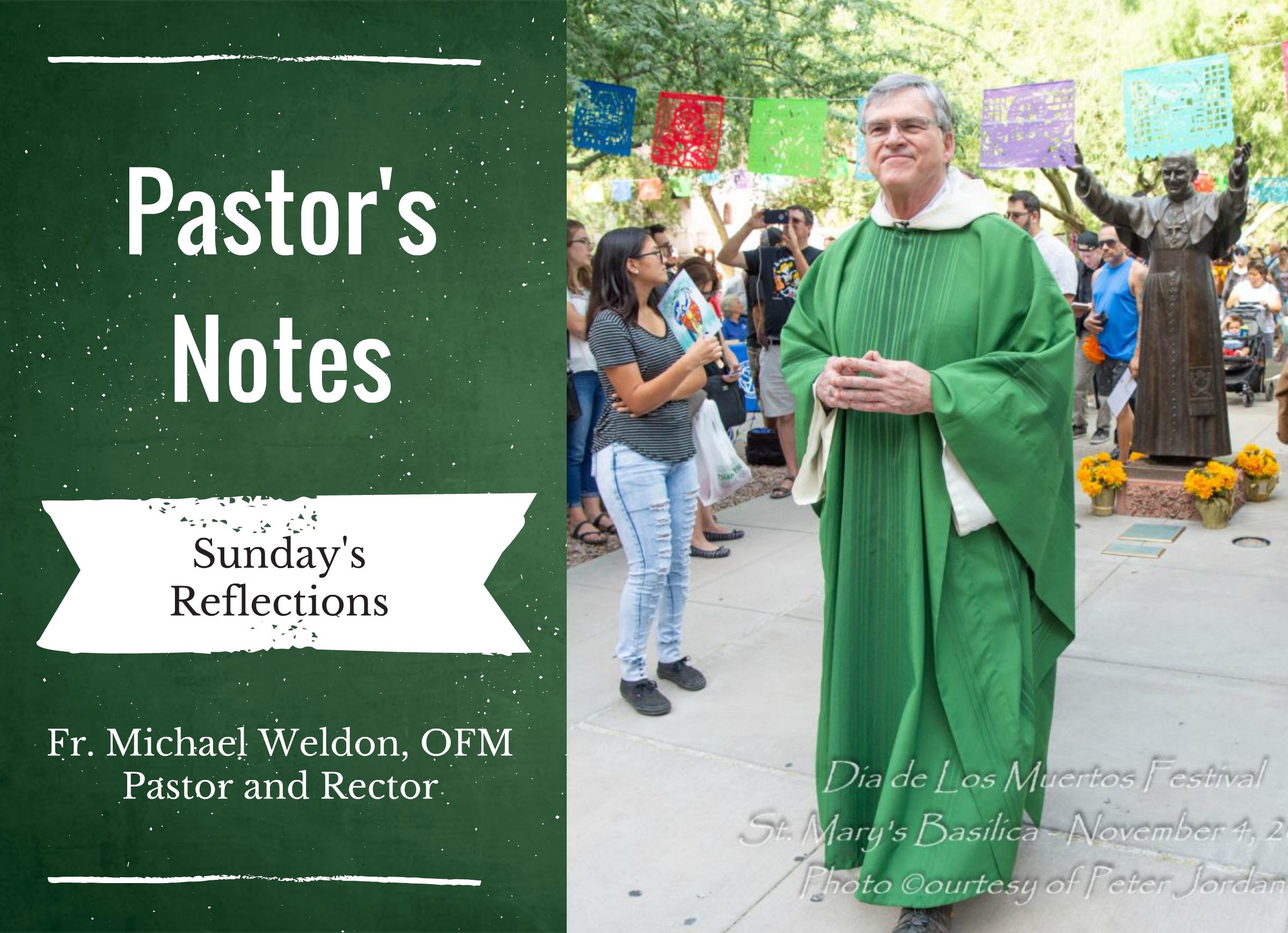 IMAGINE!
The wolf and the Lamb, the leopard and the kid, the baby and cobra … Imagine? Inter species friendships are the rage on social media these days. It happens! Opposites resolve. Violence disappears in forgiveness. "CHANGE, ADJUSTMENT, CONVERSION, TRANSFORMATION. Whatever we want to call this very human endeavor, it surfaces as a theme every second Sunday of the Advent season. John the Baptizer appears pointing, not to himself, but to Jesus, calling for total and radical human conversion.
Lights go up as it gets darker outside. It is a great image for this season. Many are putting up Christmas trees and lighting homes and businesses for the season. Gandhi once said. "We must become the change we wish to see in our world!" It is so easy to see what is wrong with the other side, everything that needs to change in our country and world. But that change we look for must also be a part of our own personal lives. The gospel challenges us this Sunday to begin making some enlightening changes in our lives…toward community, toward the poor and a style of life that reflects God's justice, God's shalom.
John the Baptist fumes with strong language that seldom appears on a Christmas card. "Children of snakes!" Yuk. God's salvation is here, at hand. It is not a dream of poets and bleeding heart liberals, of old Christmas cards or in fairy tales for children. It is here and now. John's image of the Messiah is fiery. He especially turns his ire at the rigorous Pharisees and Sadducees who look the part, but produce no good fruit. I got family members making fruitcakes ready for Christmas. Never cared for them. Prepare the way of Lord. Don't just sit there, produce something," the Baptist says. Make something sweet and human from this tender season.
This weekend marks the official Solemnity of the Immaculate Conception, our parish's patronal feast day. The Noon Mass on Monday will transfer this, but it is not an obligation. Join us anyway. Our Guadalupe Serenade will be this coming Wednesday, Dec. 11th from 7:00PM to 10:30PM with song, dramas, dance, food, the rosary and other choral presentations on the street in front of the Basilica. We will honor in particular St. Juan Diego in our procession and Bilingual Eucharist at 8PM. Our neighbor, Immaculate Heart Parish invites us for their 11PM Mass and midnight's "First Mañanitas" or morning praise of the Lady of Guadalupe. She is the icon of 3rd Advent, this women "clothed with the sun, often called the Mexican Phoenix. There are never any ashes too great for God to raise new life. This week we sit in her embrace.
A gentle week.
Fr. Michael Weldon, OFM