Pastor's Notes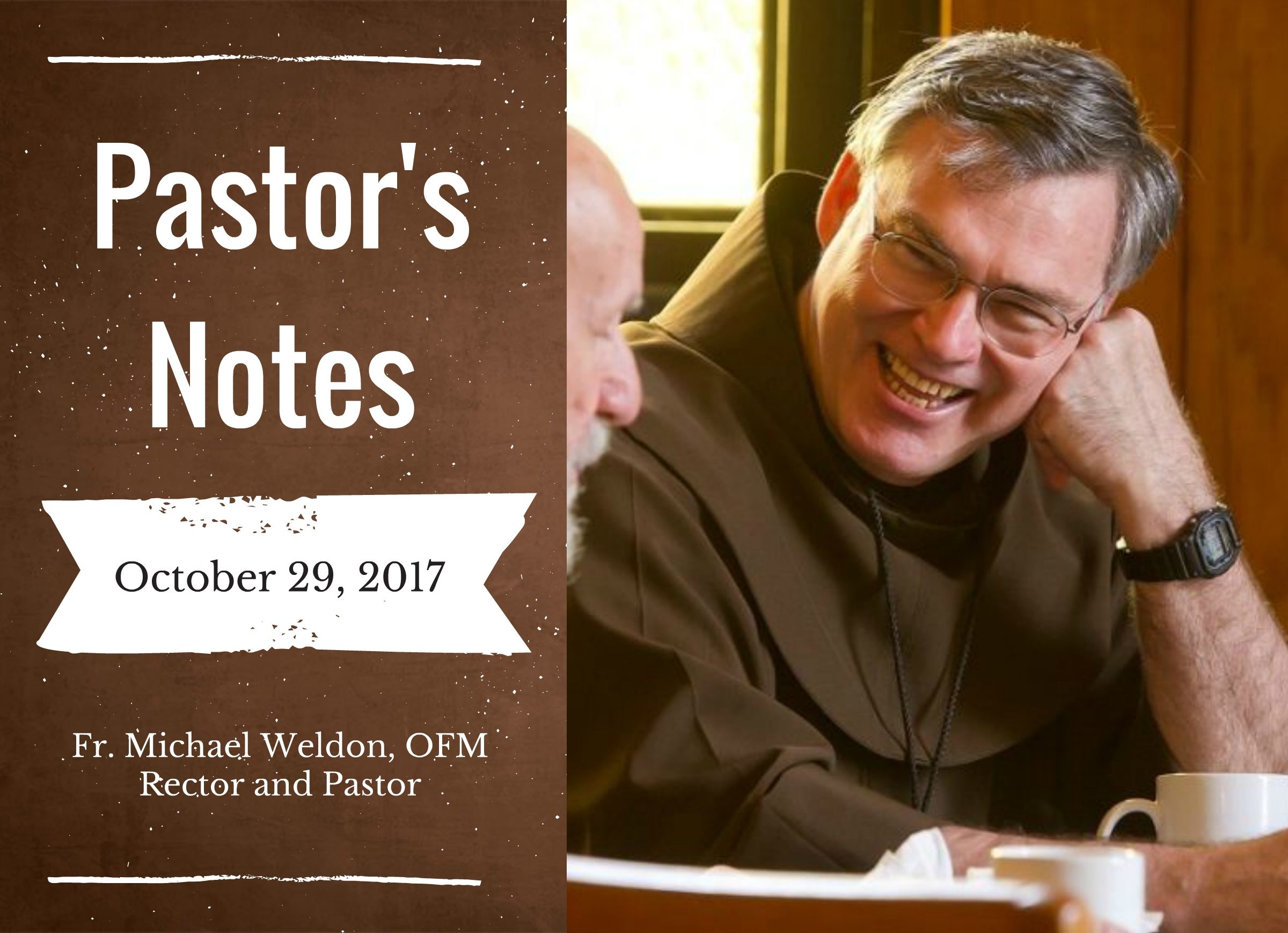 Saintly Hearts and Souls
It was quieter this past week.  We friars were away at a west coast meeting at Mission San Luis Rey in Oceanside wrestling with our future.  So many people have been involved in all the activities of the past month, from the profession of BR Scott to the liturgies of St. Francis Day, Our Lady of Fatima and Rosary Sunday, from the regular care of those seeking food assistance on Saturday morning by our St. Vincent de Paul and the creativity of our catechists.  I am also moved by the immense generosity of our ministers of care at Good Samaritan Hospital and the often long twelve-hour shifts of chaplain Fr. William Okat who deeply connected to our Franciscan community.   Then there is the Deb, Mando & Tensie and the PCLC… we honor the hours of loving care they put into the food preparation and infamous St. Mary's hospitality for these activities.
This past week I gave a retreat on preaching to about 40 from Los Angeles at the Franciscan Renewal Center in Scottsdale.   I was so impressed with their long dedication  to the Church and the work of our friars in retreat houses.   We retreated together around the Sacred Heart of Jesus.  There was some resistance as we reflected on a Sacred Heart in politics, finances and the realities of those human lives at our country's borders.  Much of our reflection came from here at St. Mary's over the past few Lents and two summer retreats with our Franciscan novices preparing for first vows.  St. Paul tells the Thessalonians in the second reading that they too have become a model.  They have inspired others by the way they lived.  So much inspiration happens daily around St. Mary's Community.  And imitation is the highest form of compliment.  St. Paul modeled to the Thessalonians the ways of Jesus and they imitated him. The Letter he wrote to them invites us to imitate the Lord of Life.  Imitating the love of God in Christ was big to the spirituality of St. Francis.  We have to adjust our thinking and feeling to the Master's heart.  To be as mindful and "compassion full "as God is the goal of personal prayer.   The pay off is an outstanding…full enduring human life.   "The glory of God." said St Irenaeus of Lyon, is a person "fully alive and full human life is found in the vision of God." To notice our world and to embrace it in the love of Christ… to see it with our mind and heart is our mission.   Maybe more accurately… to see the world around us with Christ's mind and heart that transforms ours' into a Sacred Heart.
This week is Halloween.  Join us on Wednesday November 1st for the Great Solemnity of "All Saints" for the noon and 6PM Mass.   Our All Souls is extended from Thursday November 2nd to the coming weekend's – "Dia de Los Muertos" celebration after the eleven o'clock Eucharist.  We doubled in size last year. Sunday promises to be an annual downtown Phoenix event.    Continue to support us through the final weeks of "Together We Go Forth/ Juntos Sigamos Adalante" Campaign of Saint Mary's and our Bishop Olmsted moves.  We invite every parishioner to consider a gift in loving generosity.
A gentle week to all,
Fr. Michael Weldon, OFM