Pastor's Notes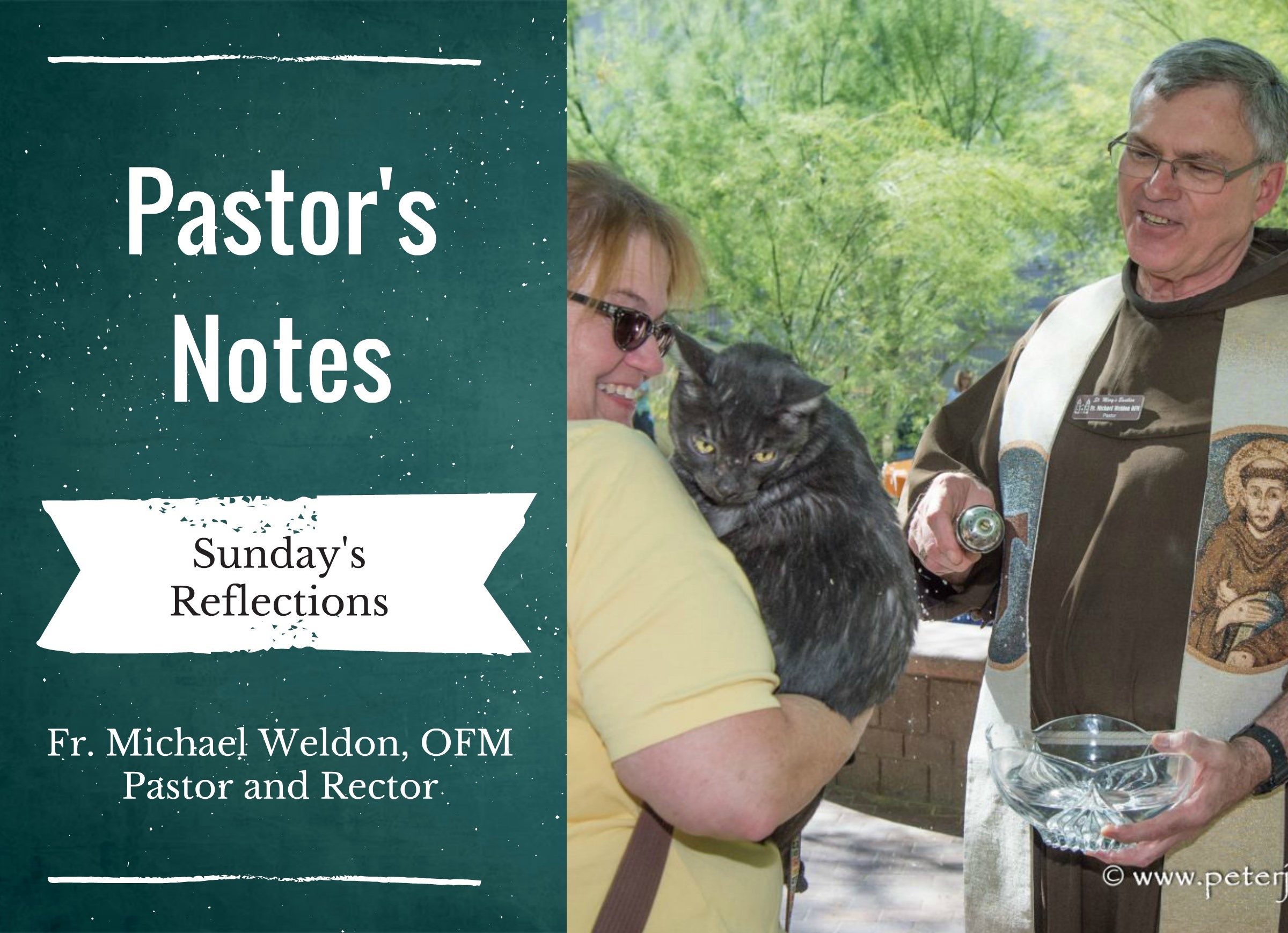 "Turning Around; Turning Out"
"Catholic Guilt." Those are words that after decades still stop us religious folks cold. Does it still motivate? "I am a recovering Catholic," really does it for me. Perhaps we all need to recover our Catholicism. The readings invite us to "turn around" and pick up the faith of Abraham, Sarah, Paul and Jesus again, in perhaps new ways! We all find ourselves compromised in front of the beautiful promises we made at Baptism. Each Sunday we say the Creed again and are made aware again how our daily choices and lifestyle reflect those foundational values. We are sinners! There I said it! St. Francis said that our sins are all we really "own. " With such a high standard, no one matches up.
The readings today focus our attention there. The Master never stays with just sin. He lingers over and over on the great forgiveness and mercy of God. This week is a good opportunity to reflect on our understanding of sin and grace. I remember the lyrics of a 1980's Welch singer Bobbie Tyler, "Turn around!" Her song was called, "Total Eclipse of the Heart" and her lyrics repeated that invitation over and over again. We often spend a lifetime trying to recover from an unhealthy sense of shame and damnation from generations past. We had often been taught that sin lurked everywhere and that we were constantly in danger of eternal damnation. To them the Scriptures say, "Turn around!" In reaction, many people totally rejected the Church's teaching on sin and grace, either consciously or unconsciously. To them the Scriptures say," turn around!" The sexual abuse scandals of the past decades, our angry politics, and divisive language startle us with our vulnerability to frightening actions, even overtly religious people in this time of national election. The Scriptures say – turn around, faith is more here than fear. Our communion as Christians is a powerful agent for human change. And at its best, it is a Sacrament of the reign of God. Conversion –"A total eclipse of the heart" is always a possibility. We Catholics proclaim that boldly.
Some great weeks ahead of us. Stay with our schedule as we adjust our Fall activities to COVID restrictions. "Safety and welcome are our highest basilica priorities. We honor St Vincent de Paul this weekend. "St. Mary's never forgets" is imprinted under the bronze face of Friar Novatus Benzing, our turn of the century builder. We particularly remember generous and consistent care for the underprivileged from our century old doors. Please join us next weekend for Festive liturgies for Francis Day, Transitus 7PM., Oct 3rd 9AM Mass on October 4th Feast of St. Francis, 2PM Blessing of Animals in the plaza. Bring pets and husbands. Animals do not have to be masked!
A gentle week.
Fr. Michael Weldon, OFM