Guardian Angel

Explore the Saints of St. Mary's Basilica found in stained glass windows and rediscover the beauty of the Basilica visited by St. Pope John Paul II in 1987. Together let's rediscover our saintly companions on our journey of faith. Today we visit our Guardian Angel.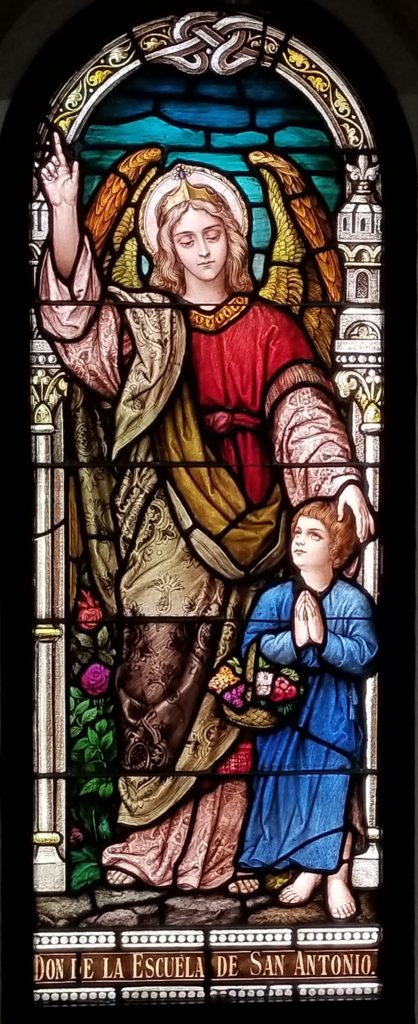 Who are Guardian Angels?
Catholics believe that each person has an angel commissioned to guard him or her from spiritual harm. The tradition is based on the following scripture verse:
See that you despise not one of these little ones: for I say to you, that their angels in heaven always see the face of my Father who is in heaven. – Matthew 18:10
Angels and their Attributes
Artists have developed standard ways of representing the angles and archangels, allowing their images to be 'read' to reveal their identities. Artists show angels and archangels with particular symbols, known as attributes. These attributes recall important actions or events from their lives. Through attributes we are able to identify the angels and archangels and tell their stories.
What are the Guardian Angel's attributes?
Typically, an angel directs a boy along a narrow and hazardous path, as in the example at St. Mary's Basilica stained glass window. In later examples a girl is added and the path becomes a bridge. Artistic representations of this idea became popular in the 17th century and continue to this day.
Patron Saint of:
A Guardian Angel is assigned to every soul.
Feast Day:
October 2
Prayer to Guardian Angel:
Angel of God, my guardian dear,
to whom God's love commits me here,
ever this day be at my side,
to light and guard, to rule and guide.
Amen.
Docent Tours
Email: tours@smbphx.org
To schedule a group docent tour to explore the history, architecture, art, sacred symbols and mission of St. Mary's Basilica please contact us.