Province of Saint Barbara
The Province of Saint Barbara incorporates many of the oldest sites in Franciscan history in North America. First arriving in present-day Arizona and New Mexico in 1539, the friars established numerous missions among the native peoples of what is now the southwestern United States. When Spain authorized the colonization of California in 1769, Saint Junípero Serra, OFM, arrived to serve as president of new missions in Alta California. For many generations, the Franciscan friars were the primary representatives of the Catholic Church in the western United States. A total of twenty-one missions, stretching from San Diego to the San Francisco Bay area, were ultimately established by Serra and his Franciscan successors.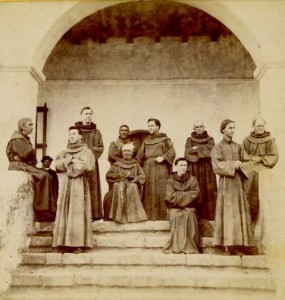 A series of attacks on the life of the Catholic Church began after Mexican independence from Spain in 1821, and the California missions were removed from the friars' care in the 1830s. Franciscans thus began to branch out into new ministries and accept new challenges. People from all over the world poured into the Gold Rush country of California, and the friars responded by embarking on ventures that reflected the needs of the new population — setting up an orphanage in northern California, establishing a seminary and educational institution in Santa Barbara, and engaging in itinerant preaching to meet the people where they were.
In the meantime, Franciscan friars were fleeing anti-Catholic legislation in Germany and coming to the United States, first to minister in the Midwest, and then in California. These friars from Germany founded a number of rural and urban parishes in the West, and their efforts flourished.
In the early 1900s, the Franciscans friars expanded into the states of Washington and Oregon, taking on large mission fields with mixed-nationality ministries. Within 10 years, enough friars were engaged in ministry in the western United States for the region to be incorporated into its own Franciscan province. On December 4, 1915, the Province of Saint Barbara was formally established. The new province quickly accepted additional ministries, including American Indian mission fields in southern Arizona, New Mexico, and California — sometimes returning to areas first evangelized by friars centuries earlier.
Today, 100 years after the establishment of the Province of Saint Barbara, Franciscan friars continue in their broad range of ministries, working closely with people of all backgrounds, ethnicities, and social and economic statuses. Together with the entire Franciscan family, the friars are adapting to a rapidly changing world while remaining true to the spirit of our founder, St. Francis.
For more Information:
For more information on the Franciscan Friars of the Province of Saint Barbara please visit our website.
Franciscan Friars: www.sbfranciscans.org