St. Patrick

It's easy to take things for granted when we see them every week. Let's take the next couple of weeks to explore the Saints of St. Mary's Basilica found in our stained glass windows. Together let's rediscover our saintly companions on our journey of faith. Today we visit St. Patrick.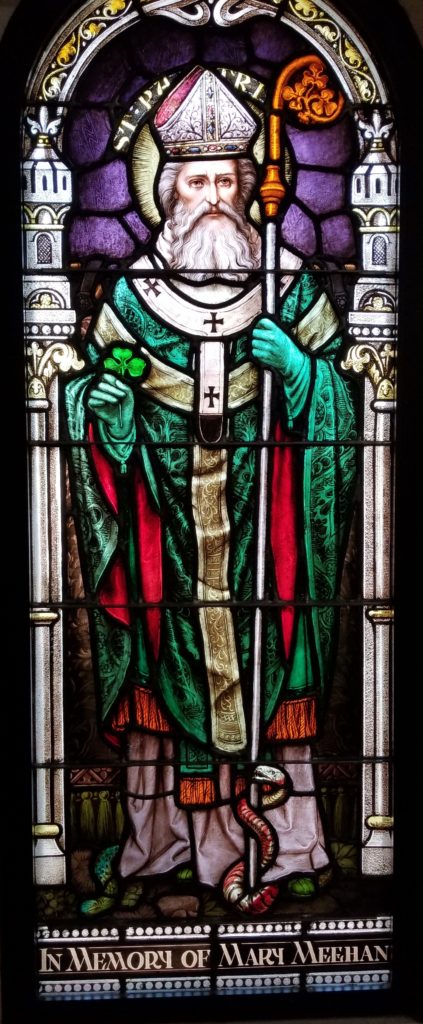 Who is St. Patrick?
St. Patrick was a fifth-century Christian Missionary and Bishop of Ireland. Tradition has it that St. Patrick was responsible for the conversion of the Irish to Christianity. Visit Franciscan Media, a ministry of the Franciscan Friars (OFM), for a short audio and written reflection on the history St. Patrick.
Saints and their Attributes
Artists have developed standard ways of representing saints, allowing their images to be 'read' to reveal their identities. Artists often show saints with particular symbols, known as attributes. These attributes are reminders of how a saint was martyred, while others recall important actions or events from their life. Through attributes we are able to identify the saints and tell their stories.
What are St. Patrick's attributes?
After the Middle Ages, St. Patrick is most often portrayed as a bearded bishop with a mitre, crozier, and chasuble. The chasuble is most often green, as in the example of our stained glass window at St. Mary's Basilica. The other two most common attributes of St. Patrick are a shamrock and one or more snakes at his feet.
Shamrock:
Legend credits St. Patrick with teaching the Irish about the doctrine of the Holy Trinity by showing people the shamrock, a three-leafed plant, using it to illustrate the Christian teaching of three persons in one God. The shamrock has since become a central symbol for Saint Patrick's Day.
Snakes:
Snakes allude to the belief, retold in the Golden Legend, that St. Patrick drove the snakes out of Ireland; chasing them into the sea after they attacked him during a 40-day fast he was undertaking on top of a hill.
Patron Saint of:
Engineers
Ireland
Nigeria
Feast Day:
March 17
St. Patrick's Breastplate:
St. Patrick's Breastplate is a popular prayer attributed to St. Patrick. According to tradition, St. Patrick wrote it in 433 A.D. for divine protection before successfully converting the Irish King Leoghaire and his subjects from paganism to Christianity.
I arise today
Through a mighty strength, the invocation of the Trinity,
Through belief in the Threeness,
Through confession of the Oneness
of the Creator of creation.
I arise today
Through the strength of Christ's birth with His baptism,
Through the strength of His crucifixion with His burial,
Through the strength of His resurrection with His ascension,
Through the strength of His descent for the judgment of doom.
I arise today
Through the strength of the love of cherubim,
In the obedience of angels,
In the service of archangels,
In the hope of resurrection to meet with reward,
In the prayers of patriarchs,
In the predictions of prophets,
In the preaching of apostles,
In the faith of confessors,
In the innocence of holy virgins,
In the deeds of righteous men.
I arise today, through
The strength of heaven,
The light of the sun,
The radiance of the moon,
The splendor of fire,
The speed of lightning,
The swiftness of wind,
The depth of the sea,
The stability of the earth,
The firmness of rock.
I arise today, through
God's strength to pilot me,
God's might to uphold me,
God's wisdom to guide me,
God's eye to look before me,
God's ear to hear me,
God's word to speak for me,
God's hand to guard me,
God's shield to protect me,
God's host to save me
From snares of devils,
From temptation of vices,
From everyone who shall wish me ill,
afar and near.
I summon today
All these powers between me and those evils,
Against every cruel and merciless power
that may oppose my body and soul,
Against incantations of false prophets,
Against black laws of pagandom,
Against false laws of heretics,
Against craft of idolatry,
Against spells of witches and smiths and wizards,
Against every knowledge that corrupts man's body and soul;
Christ to shield me today
Against poison, against burning,
Against drowning, against wounding,
So that there may come to me an abundance of reward.
Christ with me,
Christ before me,
Christ behind me,
Christ in me,
Christ beneath me,
Christ above me,
Christ on my right,
Christ on my left,
Christ when I lie down,
Christ when I sit down,
Christ when I arise,
Christ in the heart of every man who thinks of me,
Christ in the mouth of everyone who speaks of me,
Christ in every eye that sees me,
Christ in every ear that hears me.
Docent Tours
Email: tours@smbphx.org
To schedule a group docent tour to explore the history, architecture, art, sacred symbols and mission of St. Mary's Basilica please contact us.