St. Elizabeth of Hungary

Together let's rediscover our saintly companions on our journey of faith. Today we visit St. Elizabeth of Hungary one of the great Franciscan saints.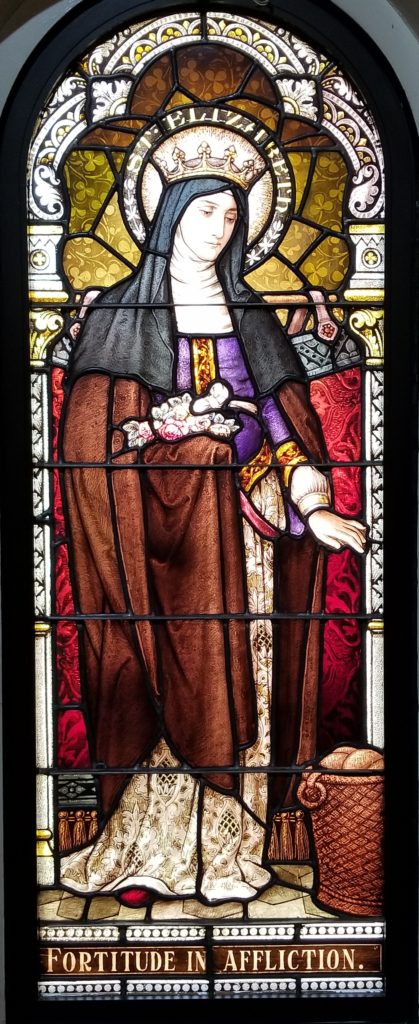 Who is St. Elizabeth of Hungary?
St. Elizabeth was daughter of the King of Hungary and wife of the Landgrave of Thuringia. She was committed to serving the poor, and upon her husband's death she became a Secular Franciscan and founded a hospital in which she herself labored. Visit Franciscan Media, a ministry of the Franciscan Friars (OFM), for a short audio and written reflection on the history St. Elizabeth of Hungary.
Saints and their Attributes
Artists have developed standard ways of representing saints, allowing their images to be 'read' to reveal their identities. Artists often show saints with particular symbols, known as attributes. These attributes are reminders of how a saint was martyred, while others recall important actions or events from their life. Through attributes we are able to identify the saints and tell their stories.
What are St. Elizabeth's attributes?
St. Elizabeth is usually depicted in a Franciscan habit, wearing a crown, and with a basket of bread to show her devotion for the poor and hungry as in the example of St. Mary's Basilica stained glass window.
Crown:
St. Elizabeth was a princess, daughter of King Andrew II of Hungary.
Basket of Bread:
St. Elizabeth set aside time every day to take bread to hundreds of poor people in her land, even though her extended family disapproved. She was know for her devotion for the poor and hungry.
Roses folded into her Garments:
One of her greatest known miracles occurred when she was still alive, the miracle of roses. It is said that during one of her many trips delivering bread to the poor in secret, Elizabeth's husband, met with her and asked her questions to erase everyone's suspicions that she was stealing treasures from the castle. He asked her to reveal the contents under her cloak, and as she did a vision of white and red roses was seen. To Elizabeth's husband, this meant God's protection was evident.



Patron Saint of:
Bakers
Catholic Charities
Secular Franciscan Order
Feast Day:
November 17
Prayer to St. Elizabeth of Hungary:
Almighty God, by whose grace your servant Elizabeth of Hungary recognized and honored Jesus in the poor of this world: Grant that we, following her example, may with love and gladness serve those in any need or trouble. In the name and for the sake of and through Jesus Christ our Lord, who lives and reigns with you and the Holy Spirit, one God, now and for ever. Amen
Docent Tours
Email: tours@smbphx.org
To schedule a group docent tour to explore the history, architecture, art, sacred symbols and mission of St. Mary's Basilica please contact us.