St. Agnes

I find myself wanting to give a sanitized version of St. Agnes's life-story found in our stained glass window, but the truth is some of our saints have lived difficult and sometimes horrifying lives. I wish I could say these types of stories no longer happen, but the truth is they do.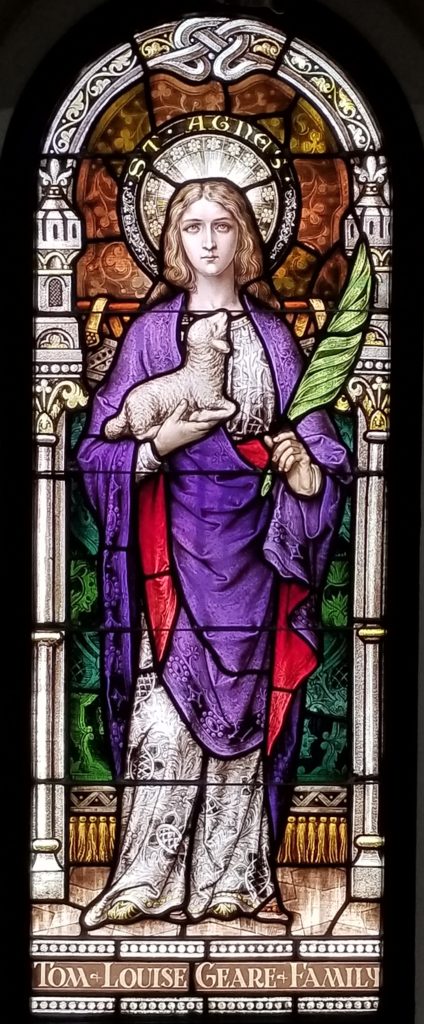 Who is St. Agatha?
Agnes was a beautiful girl whom many young men wanted to marry. Among those she refused, one reported her to the authorities for being a Christian. She was arrested and confined to a house of prostitution. Agnes was condemned, executed, and buried near Rome in a catacomb that eventually was named after her. The daughter of Constantine built a basilica in her honor. She is one of seven women who, along with the Blessed Virgin, are commemorated by name in the Canon of the Mass.
Saints and their Attributes
Artists have developed standard ways of representing saints, allowing their images to be 'read' to reveal their identities. Artists often show saints with particular symbols, known as attributes. These attributes are reminders of how a saint was martyred, while others recall important actions or events from their life. Through attributes we are able to identify the saints and tell their stories.
What are St. Agatha attributes?

Palm Branch:
A palm branch is a universal symbol for Christian martyrdom. St. Agnes suffered martyrdom at the age of twelve or thirteen during the reign of the Roman Emperor Diocletian, on January 21, 304.
Lamb:
The lamb is the attribute most commonly used to identify St. Agnes, as in the example of St. Mary's Basilica window. This is because her name is so close to the Latin agnus, "lamb." The lamb also appears as a symbol of virtue the person represented was noted for, such as, Innocence, Meekness, Patience, Purity.
Patron Saint of:
Young Girls
Rape Victims
Chasity and Purity
Feast Day:
January 21



Prayer to St. Agatha for the Healing of Breast Cancer:

St. Agnes, although you were only a child, you believed that Jesus was always with you; help us to remember that he is also with us, and to remain true to his presence. St. Agnes, you refused to give up your faith; help us to be proud of our faith, to love it, to be strong in it, and to give witness to it daily. St. Agnes, patron saint of children, watch over the children of the world; keep them safe from harm; be with them in their hour of need; and always pray for them.
Docent Tours
Email: tours@smbphx.org
To schedule a group docent tour to explore the history, architecture, art, sacred symbols and mission of St. Mary's Basilica please contact us.