Pastor's Notes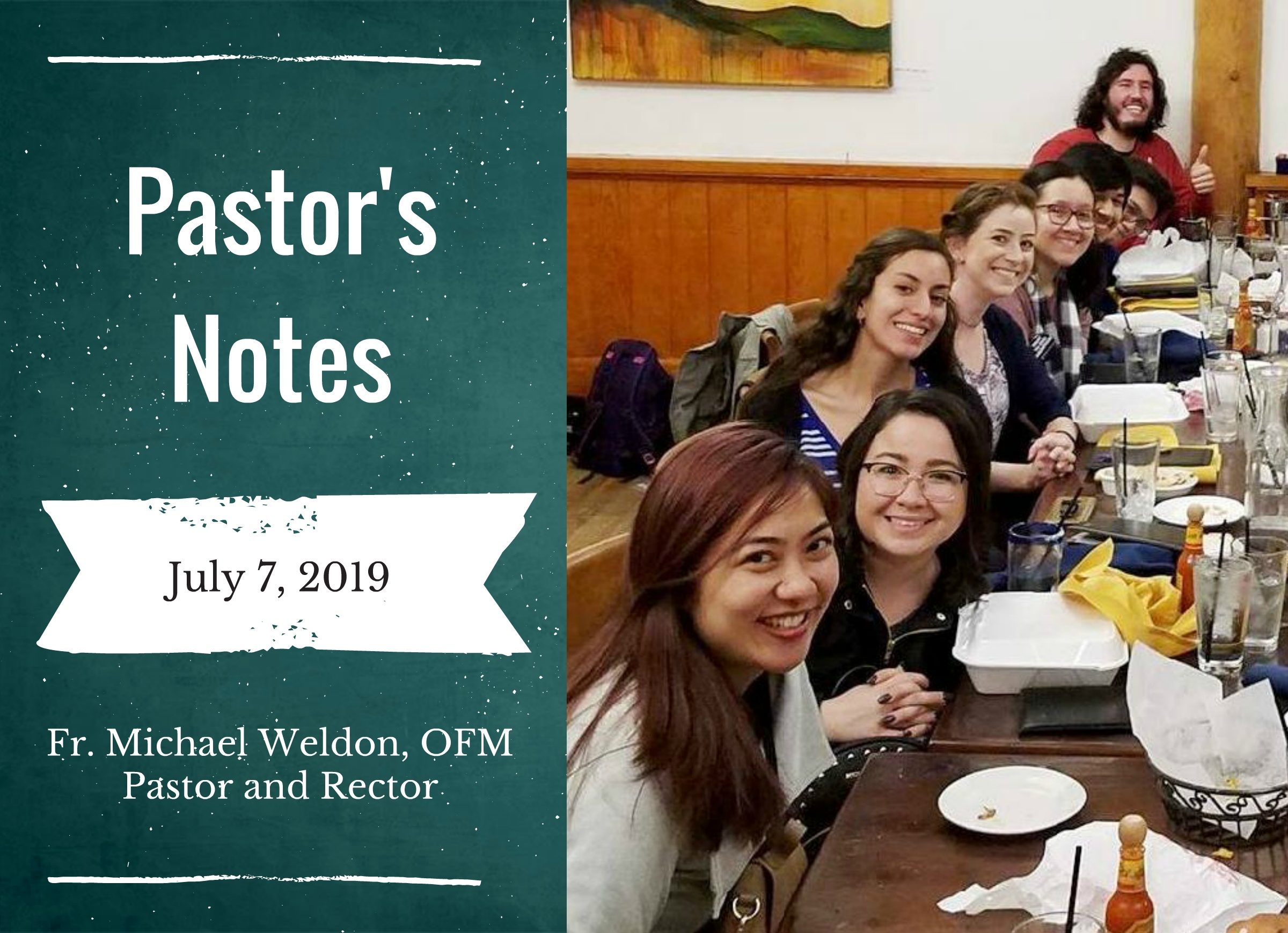 "Whatever town you enter and they welcome you eat what is put before you. Cure the sick and say to them, "The Kingdom of Heaven is at hand." Sounds like my mother gave before we ate a meal at a relative's house. Gospel "Cooth," good manners said be grateful for what is sat before you.
The readings for this weekend's liturgy, are a collection of helpful advice. The prophet known as "Trito-Isaiah" and his contemporaries had recently travelled home to Jerusalem after a lengthy exile in enemy territory. He offered his fellow travellers a vision of joy and security, which from that point on… would characterize their lives…because God had brought them safely home. "What do you say?" parents say to little ones when a gift has been received. And gratitude is mentored.
St. Paul bragsto the Galatians that their commitment to Christ required they travel through life without the baggage of their past. The believers in Galatia were in danger of being detoured or (distracted) from their journey to Christ by the demands of conservative Hebrew Christians who said you had to be a good Jew before you could be a Christian. (Nothing like a good church fight!)
Paul says,"May I never boast of anything but the cross of our Lord Jesus Christ…"The only thing that matters is that one be created anew. Like The future St Paul was a mess with blood on his hands and God made something new out of him. He noted that he still carried the scars… but just as a reminder of what the risen Christ could pull off. Don't we all?
In the Gospel, Jesus offered travel tips to those who would make his way of life their own, and then listened to them brag about what they could do. He sends his disciples forth with all the equipment necessary for a successful mission and a safe return home…to him and his father. But sometimes they'd forget that God did all the work. They just made themselves available. "A sus ordenes," they say in polite Spanish. "At your service!"
It has been a wonderful July 4th. I blessed the new home of my niece & nephew in law. Lots of food! What a party. What do you say, Mike? Happy summer.
A gentle week,
Fr. Michael Weldon, OFM