Pastor's Notes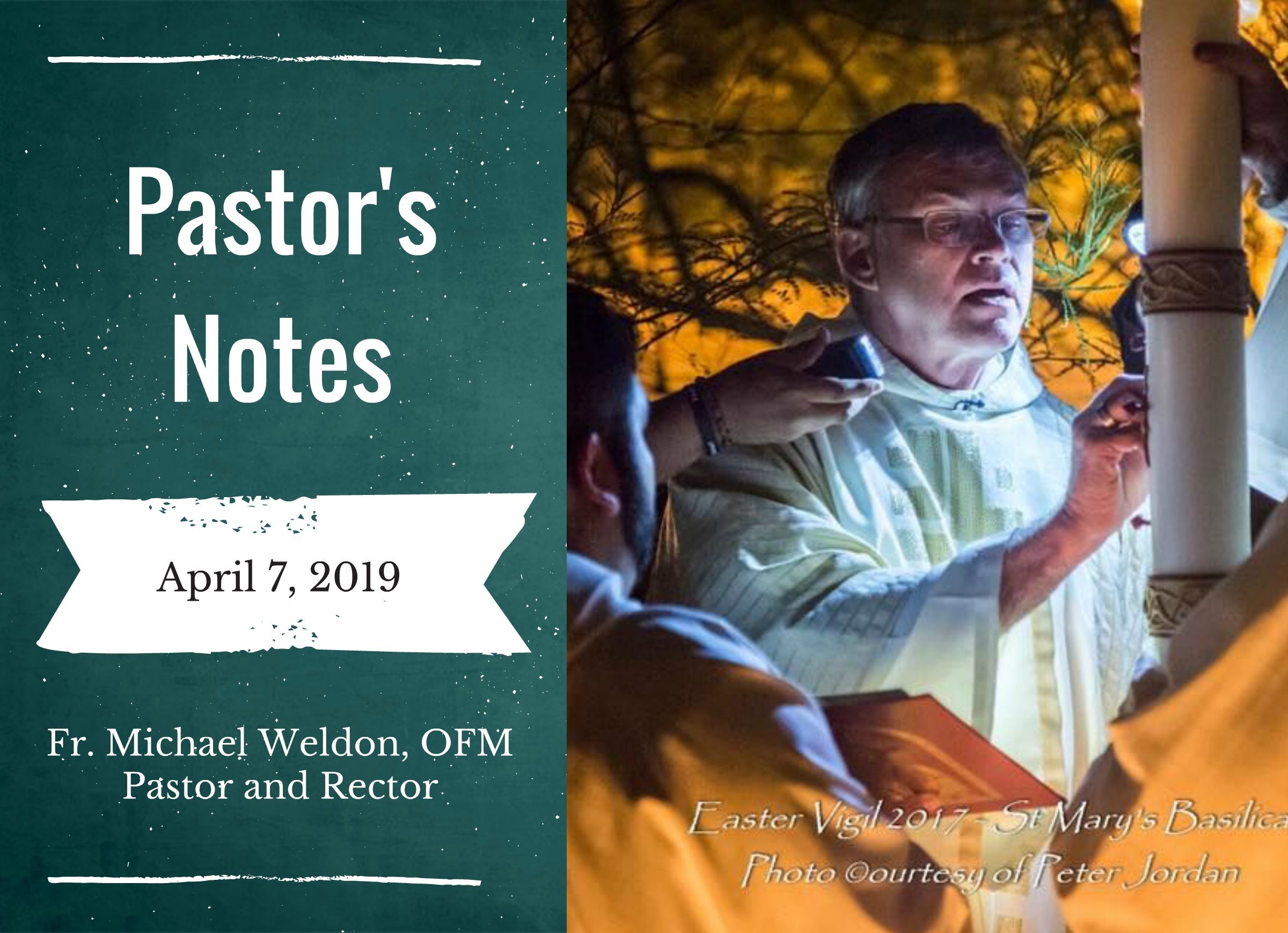 Saint Martha, the "Perturbed" Experiencing utter exhaustion, she and her sister, Mary (in this weekend Gospel of John) cared for Lazarus while he was ill. But now, Martha steps forward. We imagine her making food for scores of visitors, overseeing funeral arrangements, providing necessities for burial as she tries to control her grief. Culture and tradition suddenly have given Martha many stones to carry.
We all carry them, stones that block the light of God. We pray for a clean heart (this last week of Lent) a heart where God's light can continuously shine inwardly and radiate outwardly in service to others. We pray to be released from our prejudices, our stereotyping and dishonest inclinations. Every stone we carry can turn outward into falsehoods about others. They entangle us in an empty grave where the light of faith gets blocked.
When Martha hears that Jesus is near, she lets him have it! She hands him her stone of grief: "If you had been here, my brother would not have died." Seeing the pain of the stone she carries, Jesus asks her: "Do you believe? Me. Not those others, but me." Again, Martha refuses to give in to cynicism and doubt. She tells him her answer: "Yes." I have come to believe. Don't we all -little by little – come to belief?
Jesus arrived in Bethany in John's Gospel and is "perturbed" by what he sees. He is bothered, dismayed, maybe even agitated by the scene of great grief. In the background are the whispers of the hypocrites, waiting to trap Jesus. "See how he loved him!" And the Master weeps. Much brings us to weeping these days. Even by wailing at our cruelty to one another. It fills the daily news. God weeps with us.
"Take away the stone," Jesus says to John's community. And to our elect. And to us. A simple command to stop placing stones in each other's way of light and faith. The stone before the tomb traps Lazarus; he is unable to come into the light. Jesus commands, "Unbind him, let him go free!" He returns to his world raised up by the power of God.
We have great power. The stone is taken away, not by Lazarus, but by others we are bound up by so many things, as well as our sins — the ones they have inflicted and those we have inflicted on them. By our inhumanity the surrender of what we were created to be. The risen Christ will restore it.
What needs to be raised from the dead around central Phoenix? In our lives and relationships? What needs to be "unbound and set free" in our Catholic community and our country….or just snorted at in the very perturbed-ness of God? We are invited in this final week of Lent to imagine. It could change the world.
There is still time to join us for Friday Lenten activities and devotions. Holy Week is soon on us and all are invited to the Sacred Triduum of three Holy days. All sinners are particularly welcomed to the Communal Penance Liturgy next Saturday, April 13th at 3:30PM in the Basilica. Enough friar confessors will be provided to keep this service to about an hour. Our hands are sorely needed by the Marthas among us as together we care for what would follow the day after our brother's resurrection.
A gentle week,
Fr. Michael Weldon, OFM
Adapted from Celebration's Susan Stanton (2019)