Pastor's Notes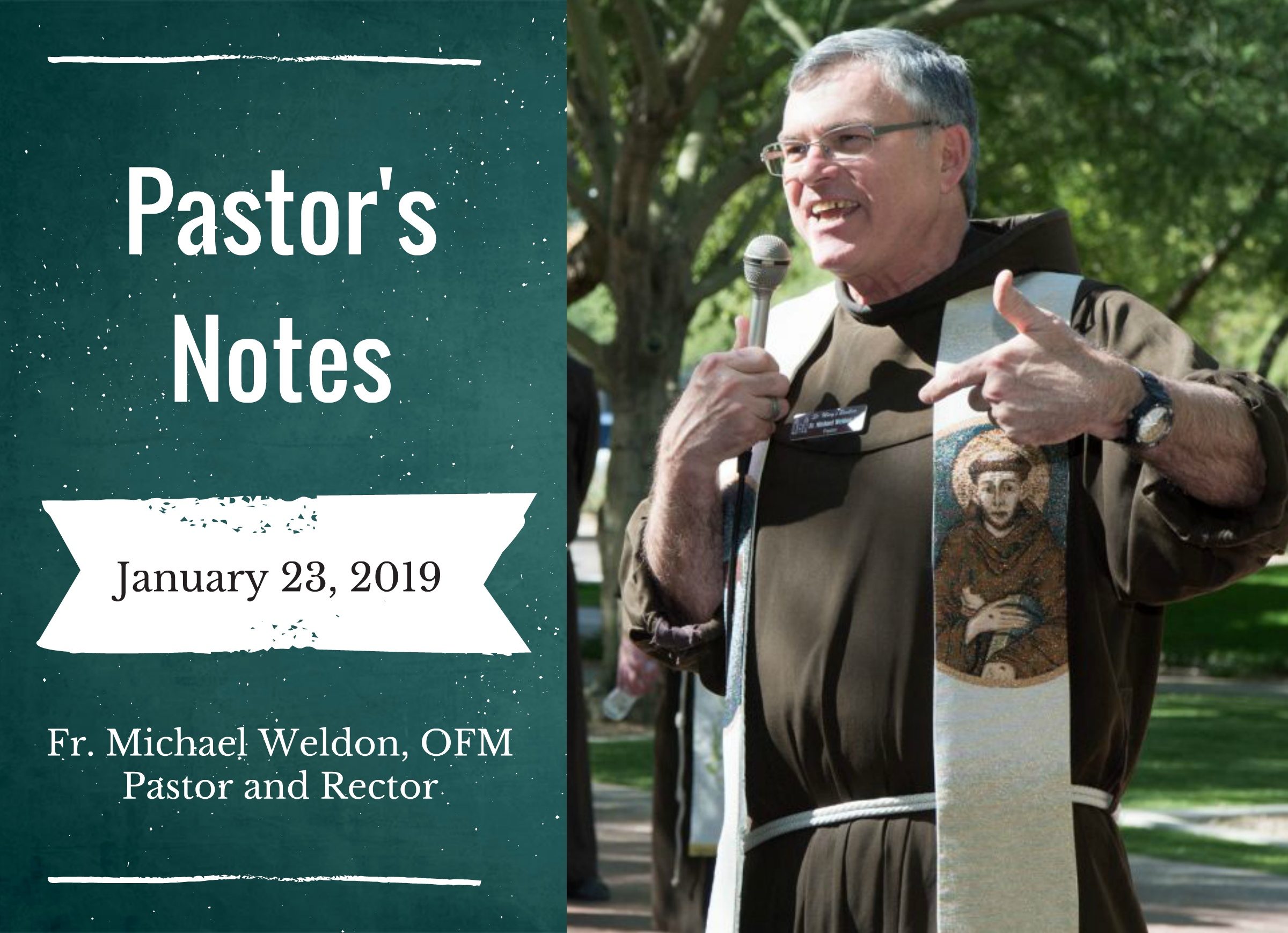 "Do whatever he tells you" (John 2:4) I've noticed a "magic" in weddings over the years. It takes ordinary people after the rehearsal dinner and transforms them for just a moment into kings and queens…royalty! And the agent of this transformation—the Mother of the Bride! I've learned not to mess with her, or her mother either, if she happens to be there! Often everything has got to be perfect…like her wedding was supposed to be.
I saw a sign near the Bay Bridge in San Francisco a few years back. "As good at Monte Carlo without the obnoxious royalty!" Oh, I don't know! We US folks have mixed feelings on kings and queens. Everybody wants to be royalty. And really deep down perhaps suspect that they might be.
The agent in this story of John's Gospel of this 2nd Ordinary Sunday is the mother of Jesus. An embarrassing situation: too many guests not enough booze! Mary sees the shame of a family and a village on the wedding day of their beloved children. She makes a very subtle request to the real bridegroom of the story. "They have no more wine." This party is about to get dull. And like most mothers of brides…she will not take no for an answer!
"Ma, my hour has not yet come!" he protests. Jesus' hour in John's Gospel comes at the Last Supper as he pours himself out as the Suffering Servant washing his disciples feet. But Mary really is not interested in that detail at that point. It was her eyes more than her words that commanded. My mother's eyes could do that. We feared them.
So she says to the waiters AND TO US, "Do whatever he tells you." And the party gets new life; six stone jars of thirty gallons each. This fiesta would still be going on. That's the point.
Jesus uses an ordinary human moment to show how his kingdom will invigorate … rejuvenate and transform people into a new creation, as different as water is from wine. The bridegroom is praised by the headwaiter for "saving the best wine until last." How many marriages and love stories must make the same journey from water to wine, then from the first wine to the best wine, saved for last? The presence of Jesus at the wedding makes this possible. But wait, a good wedding also reminds us of what God has in store for the whole human family.
We celebrate this mystery at our communion each Sunday. Every Mass is a "nuptial feast" a taste of the great wedding reception that strengthens our covenant with God. It is an epiphany like Christmas starlight. Mary nudges us forward. How blessed we are to have been invited to the wedding feast the supper of the Lamb. We are then sent to share the great vintage of Gospel life with everyone we meet.
A gentle week,
Fr. Michael Weldon, OFM