Pastor's Notes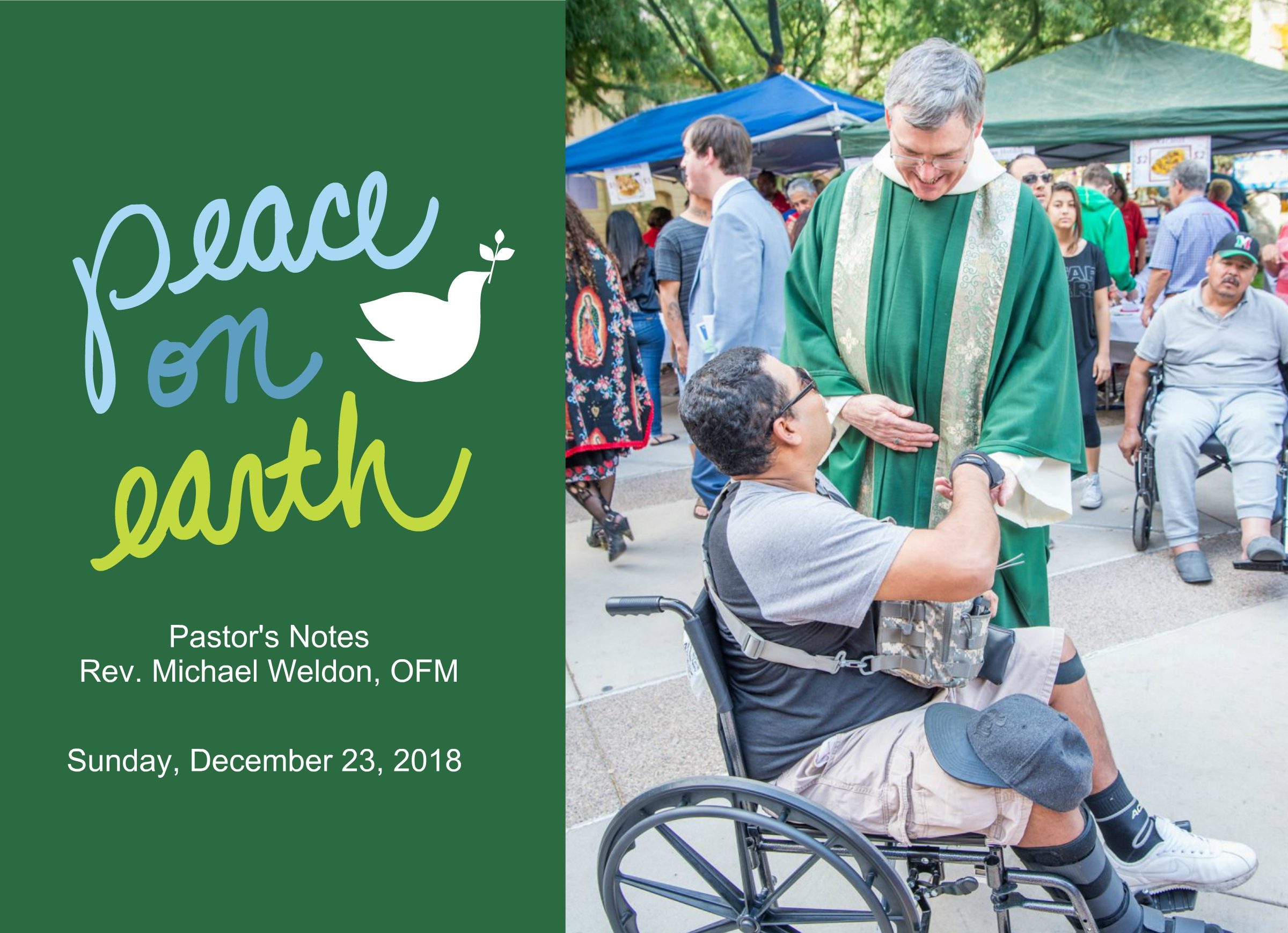 "Full of grace!" The description of the best Christmas ever! The Greek word that St. Luke used for Mary literally means, "favored to the greatest possible degree." One author claims,it was "the strongest word Luke could use to show how much God loved Mary and prepared her."
I did a workshop a few years back called, "Saving Christmas." How do we take it back from the commercial world sand make it truly a religious holiday again. We can't. Too late. What we can do is stretch it out to the feast of the Epiphany. (Jan 6th) January sales are better after Christmas anyway. "Merry Christmas" rather than "Happy holidays" is missing the point. Christmas is about transformation to agrace-ful life like Mary of Nazareth. This season in the patristic 3rd Century church was about Baptism. A disciple's life needed to be spirited.
The Gabriel, announcement of"good news of great joy," showed Mary as prototype of a favored human being. St. Francis of Assisi calls her in his "Salutation" — the "Virgin made Church." Mother of the body of Christ;She birthed the kingdom of God into our world by her willingness to color between the lines. The Beatitude of Elizabeth should go on Christmas cards. "Blessed is she (or he) who trusted the Lord's word to her would be fulfilled."


Mary was a listener rather than a noisemaker. She was perhaps one of the original believers in the value of an attentive lifestyle. For example, the Scriptures do not show her as a preacher.But she was a great evangelizer. She chose to be the model for a style later attributed to again to our medieval Saint Francis of Assisi: "Preach the Gospel at all times, and when necessary,use words."
Late Advent beckons to us. It tells us call a time-out on the field,find some quiet, and allow the word "reflect" to replace the demand to "get busy." The Gospel of Luke recommends that we linger on the person of Mary — the archetypal Christian, the summation of what the word "disciple" truly means: a listener. "Nothing is impossible to God"; Christ had three arrivals in Luke, the nativity, the "eschaton" (the end time when he will be all in all) and the daily encounter with the Spirit. That same Spirit who will cause each of us to become pregnant with a Child who desperately wants to "dwell among us."It can happen, if only, like Mary, we make room.
The most graceful and joyful of Christmases to all from the friars, pastoral council and staff of St. Mary's Basilica.
A gentle week,
Fr. Michael Weldon, OFM
Adapted from Celebration's Ted Wolgamot, "True Disciple" (2015)