Pastor's Notes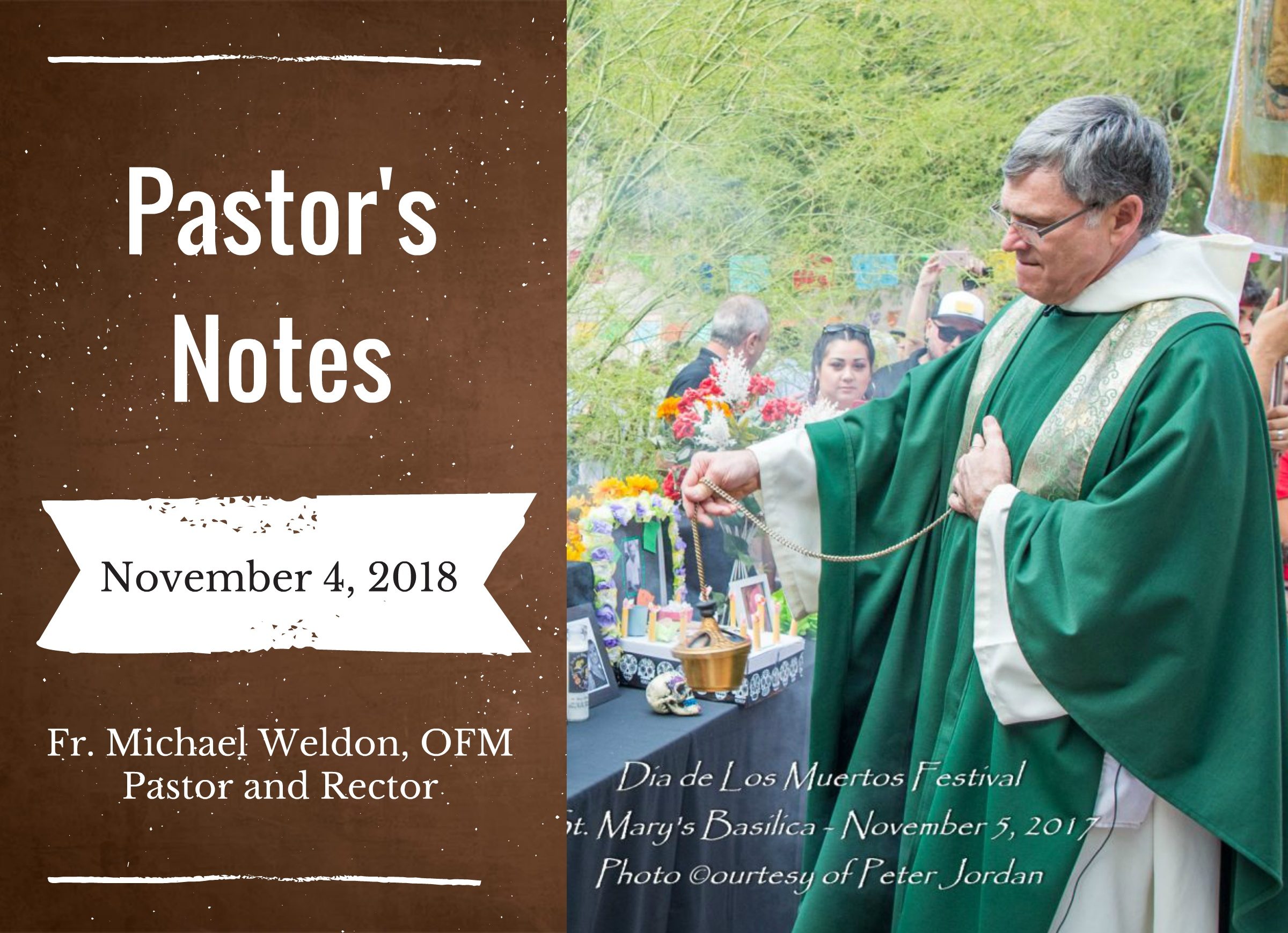 Give Ear & Remember.   We near the end of the liturgical year and the Scriptures point our thoughts toward ultimate things. In the northern hemisphere, nature itself prompts us to reflect on the end of life and questions about the afterlife.  Our usual tendency is to focus only on the immediate future and our immediate goals
Arizona's autumn season fits well with this month's focus on death, which is the reality that relativizes everything else in our lives. Many things that seemed so important fade into insignificance as death approaches.
Today's readings offer a key Christian perspective on life.  The great "Shema Israel" from Deuteronomy reminds us that God must be central in our lives and our loves. The Gospel of Mark repeats that point and adds the reminder that love of neighbor is intimately connected to love of God. The Letter to the Hebrews reminds us that Jesus "has a priesthood that does not pass away…He lives forever to make intercession for them." We are at our best praying for our world in his name.
All Saints and All Souls last week set a November tone to remember those who have gone before us and also to face honestly the reality of our own deaths. Rather than prompting morbid thoughts, the liturgy invites us to look forward to eternal life in God. For those left behind, of course, death brings grief, but our faith assures us that our separation from loved ones is only temporary if we live and die in the Lord.
How we remember our deceased relatives and friends is so important. Recent church teachings on burial and cremation highlight this.  We consecrate ground for burial and remembrance.  Good grief often requires a place, like a cemetery with a name engraved in stone.   Our procession of "Dia de los Muertos" will incense the photos of loved ones in our "altarcitos" at the fountain.  We offer special petitions at all the liturgies in November for all the departed.  Visits to the cemetery are encouraged, particularly St. Francis which has long connection to our parish's founding families.  St. Mary's three o'clock "De Profundis" bell tolls daily to remind us midafternoon to pray for deceased relatives and friends.  We are embraced by the communion of the saints.    We do good funerals here that honor our losses and hopes.  The Book of the Dead will be placed by the paschal candle for the month.
Concern for the deceased in church is matched by our concern for the living. The liturgy reflects the dual commandment in today's Gospel. It is not enough for us to worship God if we do not embrace our neighbors. Reverence and hospitality in our parish are marks of the mother church of Phoenix.
A gentle week.
Fr. Michael Weldon, OFM
Adapted from November 4 Celebration article by Fr. Laurence Mick