Pastor's Notes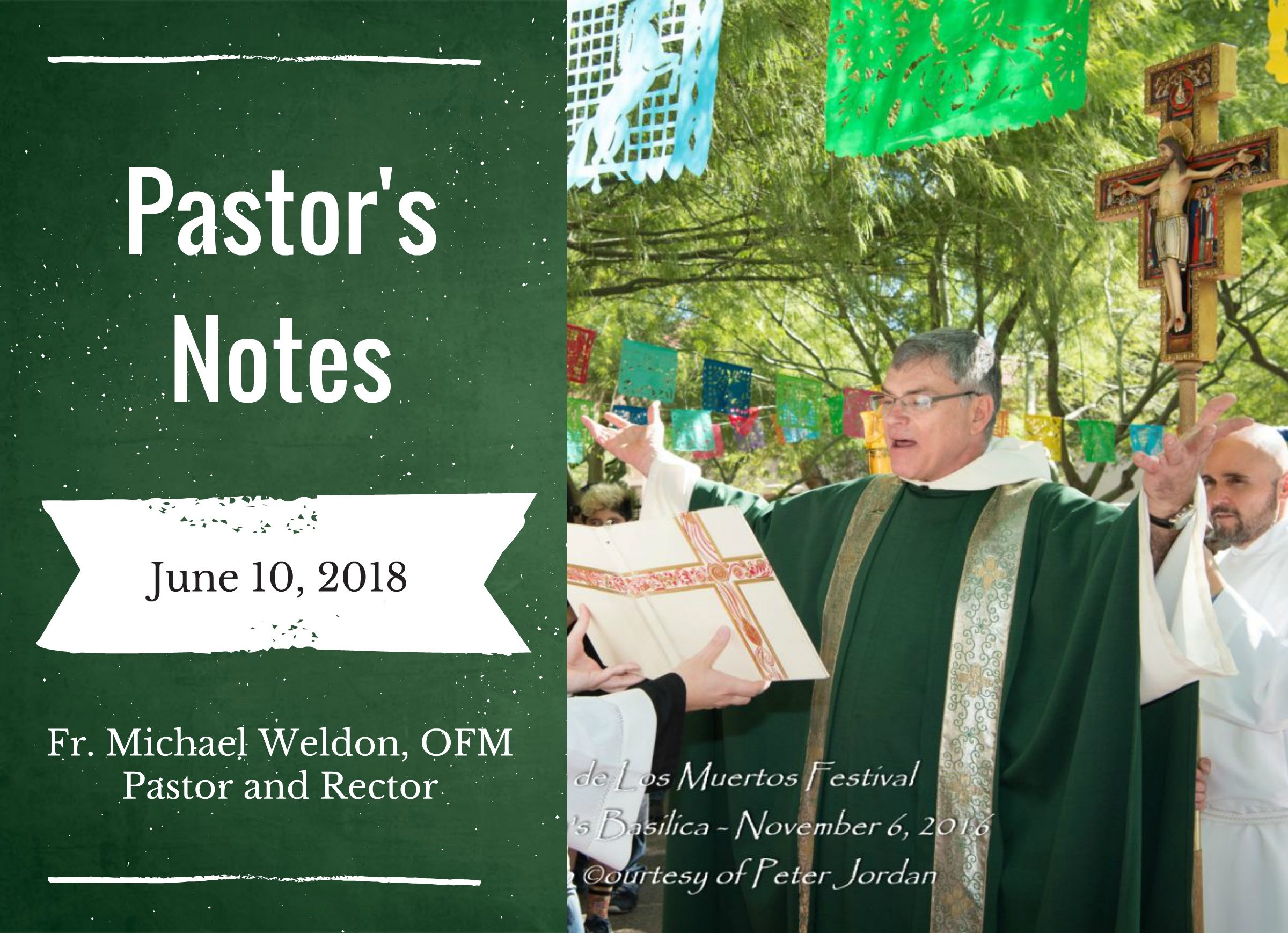 "You are out of your mind!" Last time someone used that on me, I struggled with the answer. A "yes" meant a referral to a mental health professional was appropriate. "No," meant perhaps the accuser had another motive.  Leave the doubt that I have always been a bit off?  Or resistance to what was on my mind and desire to silence whatever it disturbed?  Has anybody ever used that on you? Or have you recently aimed it at someone else?  We are in good company according to this weekend's Gospel. The relatives of Jesus said that about him when he came home after one of his first preaching tours.  The reason for such a judgment was not entirely clear.  But it highlighted a resistance growing against the Gospel Jesus preached, by people close to him and the "powers that be" in Jerusalem.  Fear of the crowds that followed him disrupted their chain of command.  His "Good news for the poor" could have evoked some fearful jealousy. The scribes from Jerusalem hit him fast and furious where it could do the most damage… "He was possessed."  The devil made him do it.  Something must be wrong with him.
"Who are my mother and brothers?" Jesus asked, as the story of this weekend continues. Who is kin to me? Not just blood and ancestral, DNA lineage mark us as relatives to those we share a home with. After Jesus' "out of his mind," experience, he seemed to expand his sense of family. Anyone attempting to live God's will was mother or sibling to him. St. Francis loved this Gospel story. He felt the friars should be spiritually maternal. This is tough, particularly for us guys to hear. We are like Mary, giving birth to the Word, in our choices of virtue, self-giving, and justice—this is what Christian life is all about. Incarnation means putting a body on the Word. "This is my body." Jesus had said. And sharing a body with the heirs, mothers, and brothers of the Lord Jesus makes us family.
"Tony, Tony Turn Around! Something's lost and must be found," was a familiar old St. Anthony adage that our great-grandparents may have known and was connected with the great medieval preacher and miracle worker we honor this weekend. A window and big statue honor him on the west side of the Basilica. This St. Anthony of Padua Weekend sees us bless lilies and bread to be given away. What have we lost as a country and a local community that St. Anthony can help us find? Many are saying it is our sense of the common good, our civility with one another, perhaps our sense that we are all related, by DNA and the Good news of the Gospel.
As summer heat looms, we remember those who planted our Basilica community, our local and universal Church with great sacrifice. Any hospitality we can "muster" here at St. Mary's has got to reflect Jesus' insight about family. Our outreach to the community and especially to the poor reflects his enlightenment … Or I prefer
"SON-light-en-ment."   Our ancient cool spot to pray in the middle of the day brings "Sabbath rest" to many weary Phoenix visitors. The welcome at the door on the weekend means everything. "This is how it is with the Kingdom of God." All are welcome because we are family.
"Love, therefore, the Lord your God, who made you and made himself your servant. He gave himself totally to you, so that you might give yourself wholly to him."  Saint Anthony of Padua
A gentle week,
Fr. Michael Weldon, OFM