Pastor's Notes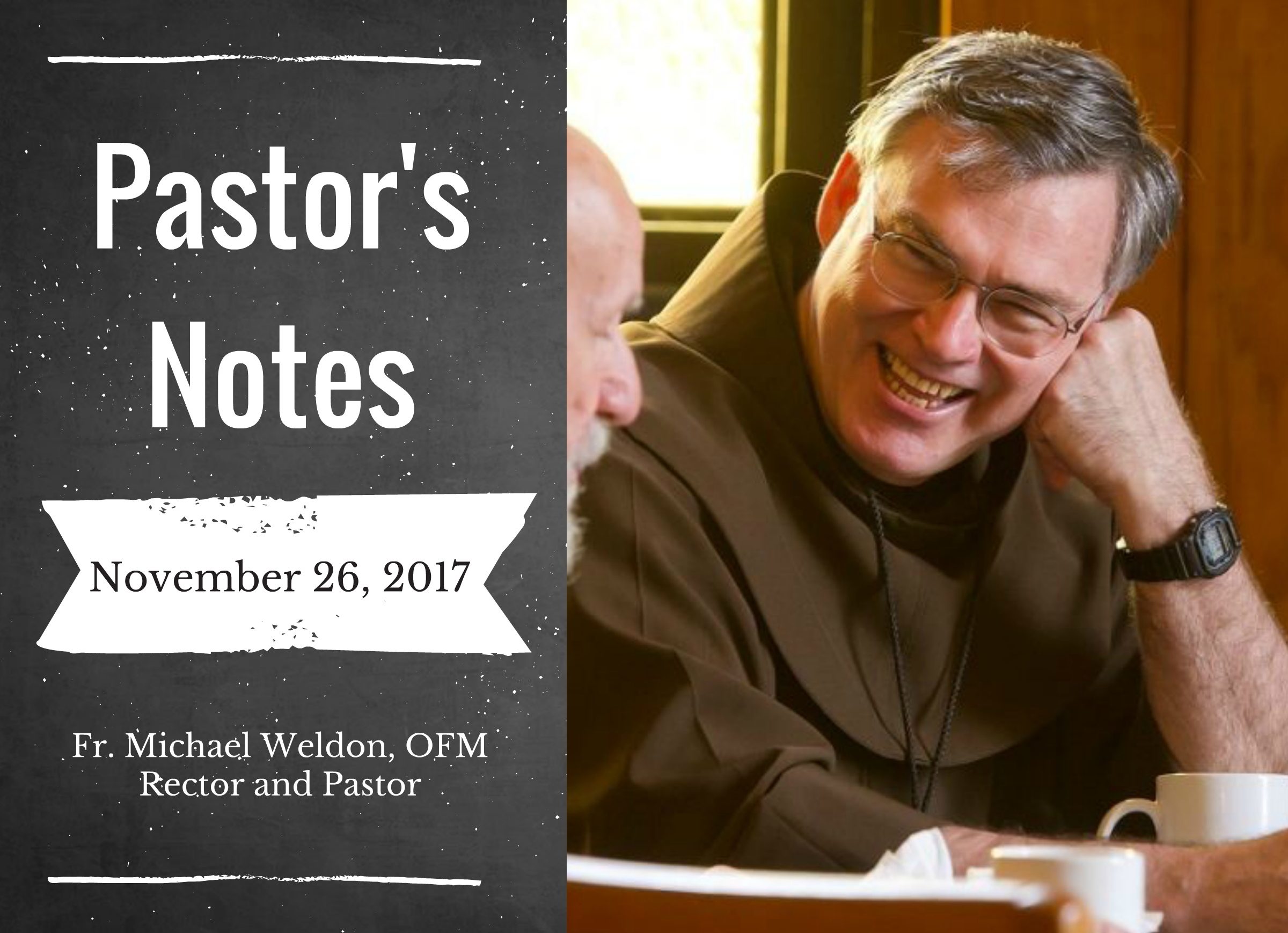 God's High Society.
The Solemnity of Christ the King is the last Sunday in Ordinary Time.  The history of this feast dates to 1925 when the fascists were coming into power in Italy, Spain and finally Germany.   As Communism was threatening the social fabric of Europe, this feast served as a reminder that political power must never claim the absolute allegiance of any human being.  God has a different standard of greatness.
The Scriptures of the end of this season call our attention to the Day of Judgment.  The first reading announces the theme at the end: "As for you, my sheep, says the Lord God, I will judge between one sheep and another, between rams and goats." Jesus uses that same image in describing the final judgment in the Gospel.   The second reading speaks of Christ reigning until all his enemies are subject to him, when he will hand over the kingdom to the Father.
We get a snapshot from the Gospel of Matthew that looks like "God's Academy Awards."   Those at the end of the line are high society in the Kingdom of God.  We enter that Kingdom on their passport, on the hungry the imprisoned, the sick and poor.  The description of the judgment in Matthew's parable reminds us that it is not our beautiful worship services or our devotional practices that will count at the end of the day.    What matters ultimately is whether we have loved God in those in need.
The liturgy of this weekend brings our attention to the poor and needy.  Christ the King is not primarily a feast for celebrating the power of Christ and patting ourselves on the back for following the ultimate victor.   It is a call to imitate our king, who came not to be served, but to serve.
Thanks to all who have worked these past weeks with the many activities of the Basilica: the Dia De Los Muertos, those who hosted the Matsiko Orphan Choir and the 500th Anniversary choral event with our sister parish of Grace Lutheran.  Our Thanksgiving was a wonderful snapshot of our community at its best. It was so moving to watch all the food brought forward during the Preparation of the Gifts.  A special thanks to St. Mary's High School.  They processed down 3rd street on Wednesday morning with foodstuffs for our St. Vincent de Paul pantry.  Our home banquet tables of these holidays radiate blessing to everyone around us.  Giving thanks is what we at St. Mary's do for a living.  We are after all held together in the daily Great Thanksgiving we call the Eucharist.  Advent begins next week with 4 PM Sunday Vespers.  Please mark your calendars for the Guadalupe Serenade on December 11th at 7 PM.
A gentle week.
Fr. Michael Weldon, OFM