Pastor's Notes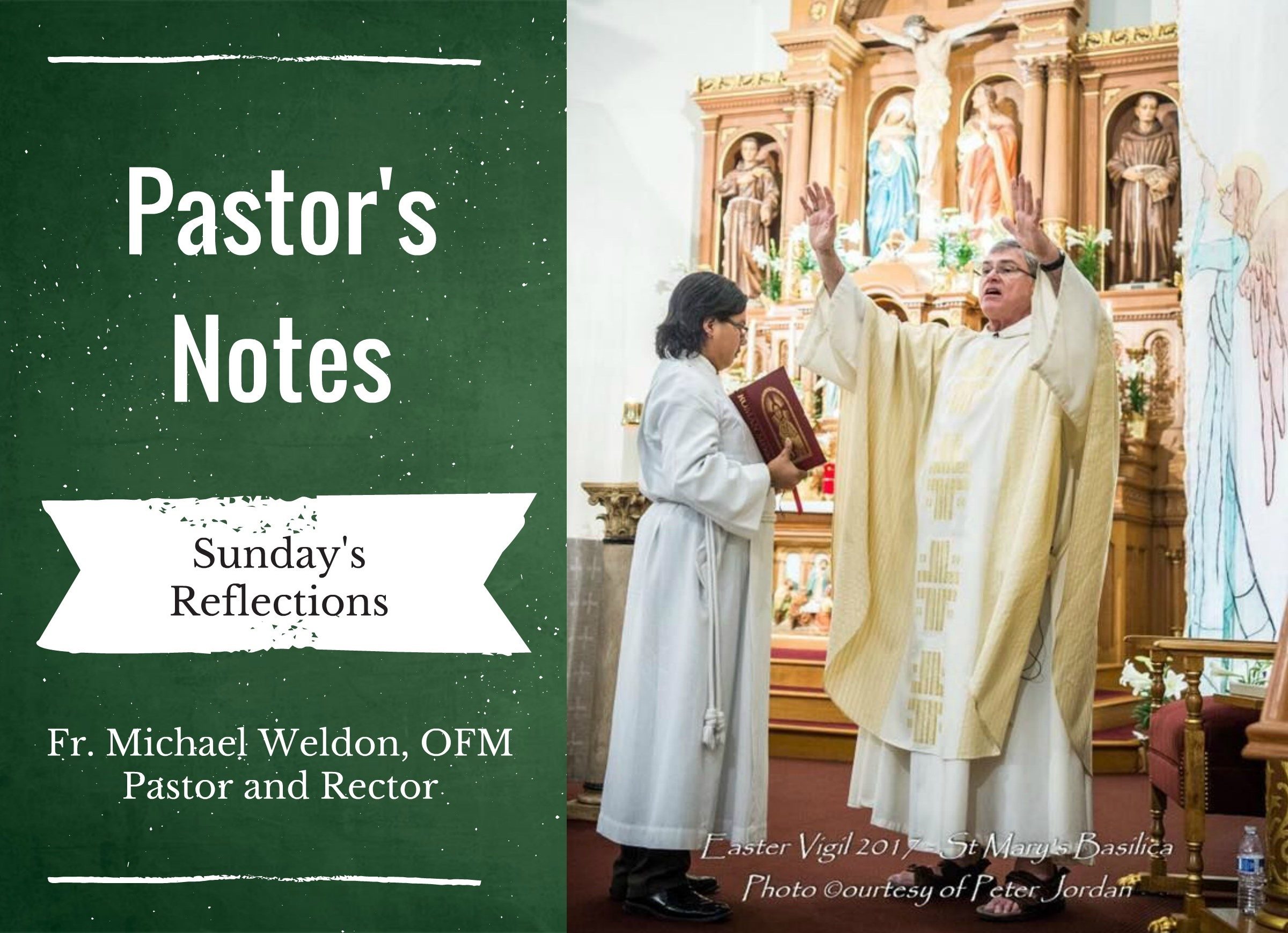 "Here's Mud in Your Eye"
I love that toast. I think it traces its lineage from this story of this weekend of Lent. What do we mean by mud in the eyes? The Gospel of the man born blind is used for the 4th Sunday of Lent when a parish is normally preparing candidates for the Sacraments at Easter. Jesuit Fr. Walter Burghardt called the story "a masterful portrait of increasing insight on the one hand, hardening blindness on the other." Jesus healed one man born without sight and a saw a small group of Pharisees becoming more blind in front of his eyes. Each of us are in some ways "born blind. Our minds, opinions and judgments get darkened—Life beats us up and sin keeps us from often measuring up. The "light of the world," appeared so that those who follow will know the light of life" (Jn. 8:12). This could change our choices, soften our politics and heal our relationships.
It's interesting that Jesus used mud to heal the blind man. It suggests that that the opening of the blind man's eyes will be a mixed blessing. In the Gospel, the one born blind gradually learned what it meant to be anointed with mud. Even alternative medicine would have some difficulties with this. First it would make him miserable. People turned against him. Family was confused. Seeing well is often hard to get used to. But it is a sign of hope when someone pulls it off. Good news. The most blinded can change and come to believe and see the anointed of God— the Christ right in front of his nose. We see him in a million ways.
Early Christians called their Baptism – "illumination," or enlightenment. These days of lock down can open our eyes if we use it. Each of us were given the light at Baptism, but God's word has a tendency to slowly, gradually penetrate our minds and hearts. The Gospel of the man born blind is not just a lovely story with a happy ending. The details are meant to challenge us, to raise a question: How alive is the light within me? Is the light blazing, shining brightly, or flickering like a dying fire? Where are my blind spots? What is it I don't see? "Harsh questions, yes, but terribly important when God's Son died to dispel our darkness, to keep us who believe in him from groping around in the dark.
This pandemic has made the whole past year a Lent and of sorts. The horizon shows some hope on this, "Laetare" Sunday. It has stretched us and extended our sense of the common good. There is much to learn as we listen to one another's stories and weave them together as a parish. Our future has been shaped by this year's masking, social distancing and sanitizing. Stay with us as on our parish website & Face-Book as we move into the later weeks of Lent and Holy Week. Pray for each other as we fast our way through these Sacred Friday and the Via Cruces. The daily noon Mass, Tuesday devotions to St. Anthony and Thursday's Eucharistic holy Hour give us places of silence. The Sacrament of Reconciliation is available by on appointments with the Basilica friar-priests Penance Services are scheduled the next two Saturday afternoons at 3PM. Continue to keep your eyes open and vigilant these Lenten days.
A gentle Week.
Fr. Michael Weldon, OFM