Pastor's Notes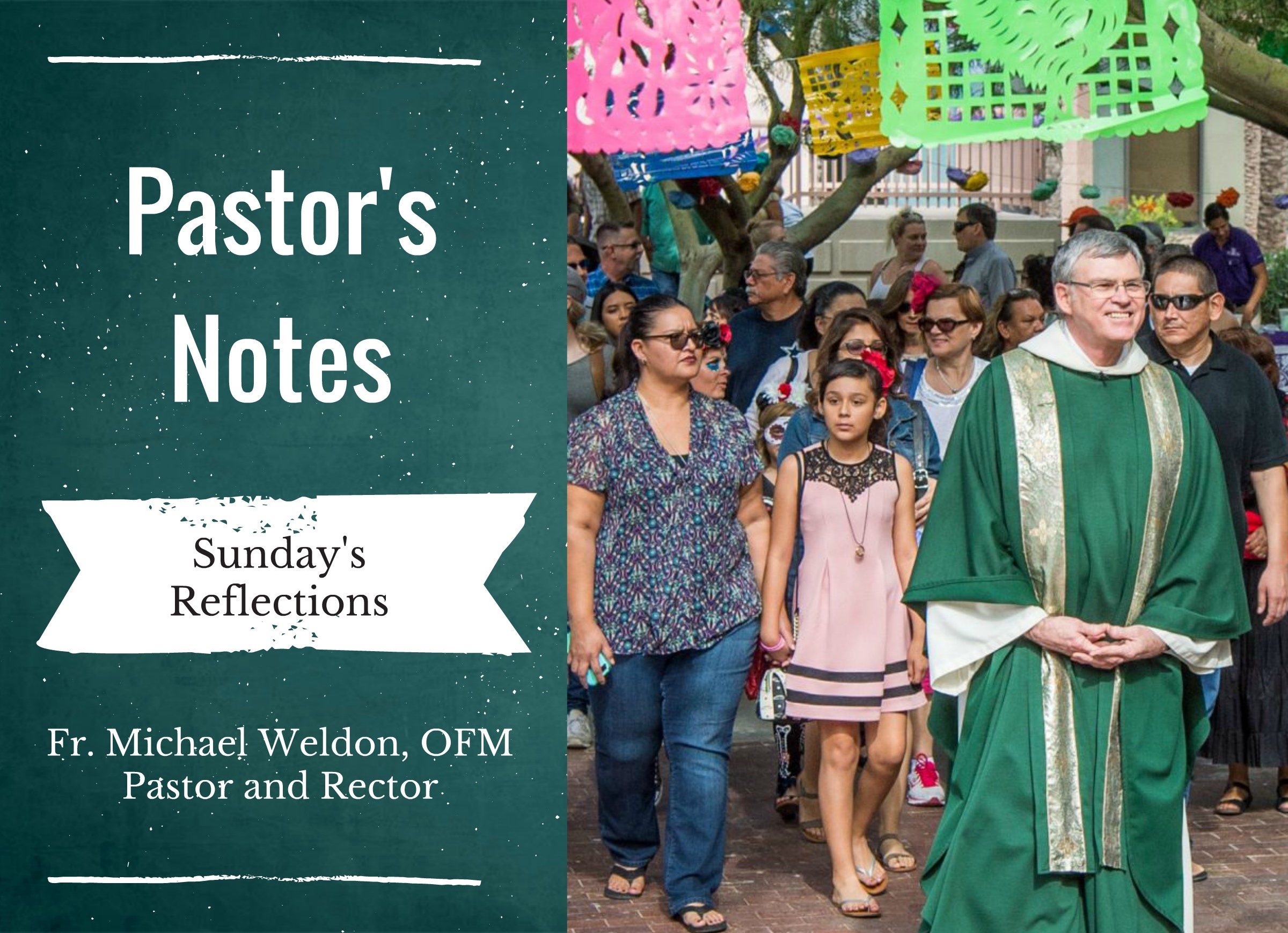 STILL HONORING GREAT SOUL
I started shopping at a new grocery mega-Supermarket called "Walmart" many years back. As they opened, they prided themselves on having the friendliest employees of any of their competitors. They were always smiling or asking if you needed help with finding something and asking you if you wanted help to your car. They hired Down-syndromed and other developmentally handicapped people as bagging people and hospitality. I went often those days just to enjoy the attention. So did a lot of other people.
All Saints honors the ordinary men and women who excel in those qualities that we call saintly: heroes who make a difference. Saints are just "ordinary people who have the extraordinary ability of doing ordinary things with extraordinary love." How does one get sainted?
The Beatitudes are the stuff that saints are made of. People with a quality of care and conscience – we bump into them every day. They live down the block, work next to us and go to the same school dances. Their pictures may not be on the walls of churches or public buildings, but they are in people's family albums. The majority are not famous…not celebrities on this side of eternity. But in the Kingdom, they are high society!
Today is the harvest festival of the church. On the Halloween Feast and All Saints/All souls commemoration, we celebrate God's beautiful people – and our union with them. Maybe our communion with them gives us incredible strength. Afterall, the Communion of the Saints is something we say we believe every Sunday during the Creed.
In the Letter to the Ephesians, St. Paul (or a disciple of his) noted we are no longer strangers and 'aliens' ( I like that word) but "fellow citizens with the holy ones and members of the household of God…." [Eph. 2:19] Jesus highlights the "blessed" in St. Matthew's Sermon on the Mount as those who radiate beatitude. "Holiness" is not something reserved to the beatified or canonized. Some folks got where they are only by conversion from very sinful ways like St. Augustine! Some like our new Assisi blessed Carlo Acutis seemed to always have had an innocence about him in front of video games and tennis shoes.
St. Theresa of Avila used to pray, "From silly devotions and sour faced saints, good Lord deliver us." The peacemakers, poor in Spirit, the grieving and meek are not sour, they surround the face of God. Caryll Houselander wrote "What people need are more saints who prove in flesh and blood that they are more than flesh and blood."
In the meantime, the rest of us baptized saints don't need to sweat or worry about God's generosity, that is unless we are foreigners to those ordinary folks, the poor and forgotten with whom God has chosen to stand -a good conviction to take into the voting booth this week. From pope to peon, we are held to the same criteria of holiness from the applause of God's own "Academy awards." Great Beatitude radiates the amazing goodness of God. Write their names in our Book of the Dead by the Easter Candle for the month of November. We remember them in every Eucharist.
A gentle week,
Fr. Michael Weldon, OFM