Pastor's Notes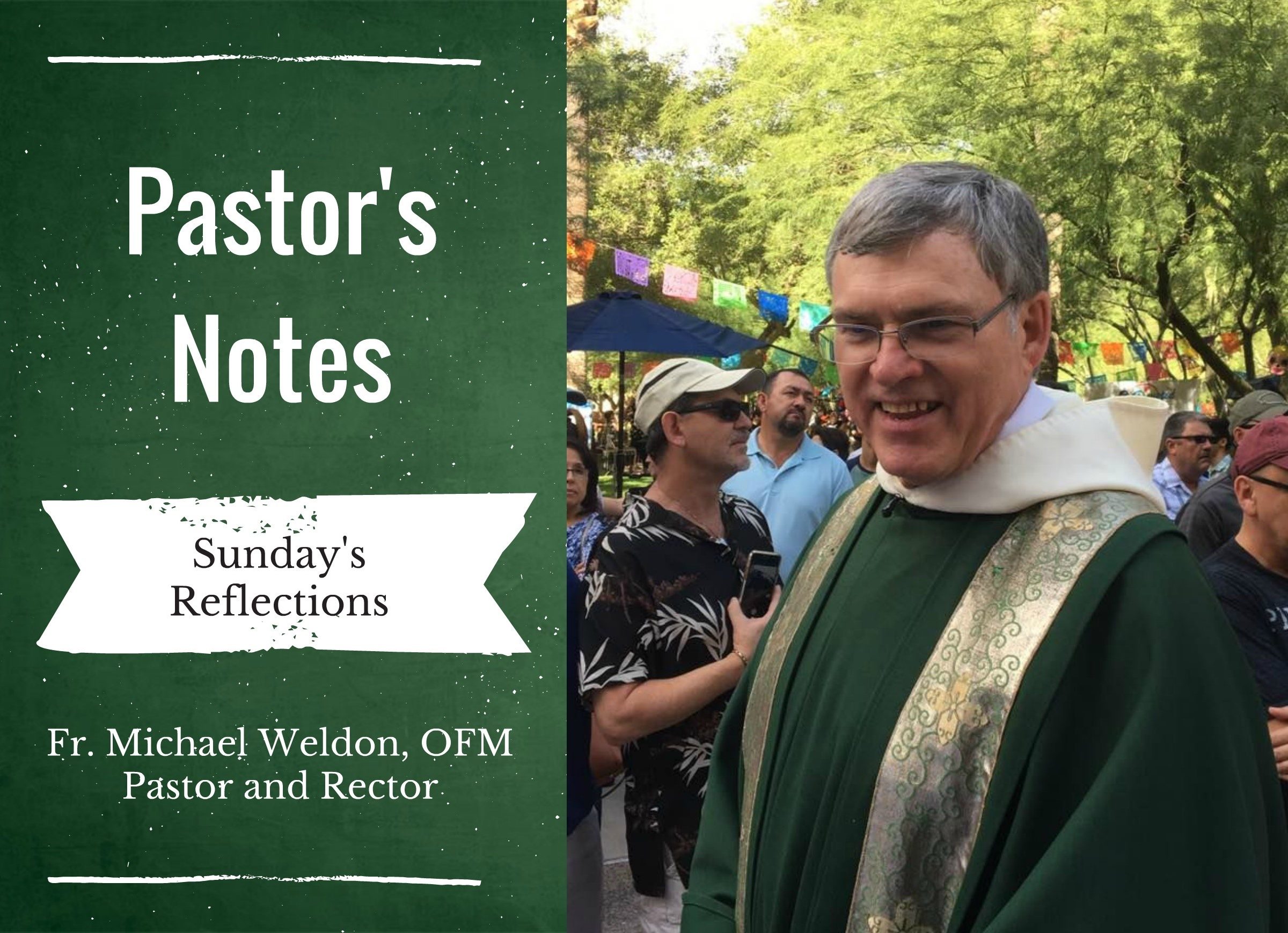 "God is no Gameshow host"
My dad's favorite TV show was "Wheel of Fortune." I think he always hoped someday his ship would come in. God's voice in the first reading might sound like a Wheel of Fortune host. "Hey Solomon, baby! Ask something of me…anything?" But it was better than Wheel of Fortune… or KAZAAM … Three wishes…take 'em and I will get out of here. No need to spin a stupid wheel or look behind door #3. It's absolutely free! No service charges… No strings.
For Solomon to ask for wisdom must have meant that he had some smarts already. He answered the question in a way humble enough to touch God's heart. "Give me an under-standing heart to judge your people and to distinguish right from wrong." And he got it in spades.
What a treasure he was in God's eyes at that moment! He blew it later with the Bathsheba controversy… but I don't think God ever really pulled back on the promises and blessing he made that day. God just ached with the family of David at the consequences of their bad decisions and stayed around for the drama. That's my boy! Ah how we hunger for that treasure. To be known and noticed, to be desired and appreciated by the Creator God.
St. Paul in the Letter to the Romans reminds the new converts that that God makes all things work together for the good of those who love him. We share the image of the beloved son…CALLED, JUSTIFIED AND GLORIFIED. Like the first of many beloved treasured precious children…we belong.
I was asked a very painful question by a woman who had just vigil-ed through her brother's death of Covid complications, "IS THIS REVELATIONS TIME?" She meant the final book of the Bible the "Book of Revelation" with its wars, omens and monsters. And I said, "I don't know!" My silence with her was the better answer that day.
I do know this. The reign of God is here; wherever we are. It is a set of values that honors the preciousness of people and things. It is a way of life that is treasured above all else. It is a group of people bonded together glued by sharing the passion…the great revelation…and sparkling with love It is an energy that happens when we are poor enough to finally surrender to a power greater than ourselves. It is a truth discovered buried deep in our hearts…that once tasted one never forgets.
The paradox of the kingdom of Jesus is that while we are looking for it, it's looking for us! We are the pearls found by the reign of God. We are valued, treasured by the creator, he put everything for sale to buy us… And so when Heaven's Kingdom is looking for us and our life quest for buried treasure come together…a pearl happens.
A gentle week,
Fr. Michael Weldon, OFM