Pastor's Notes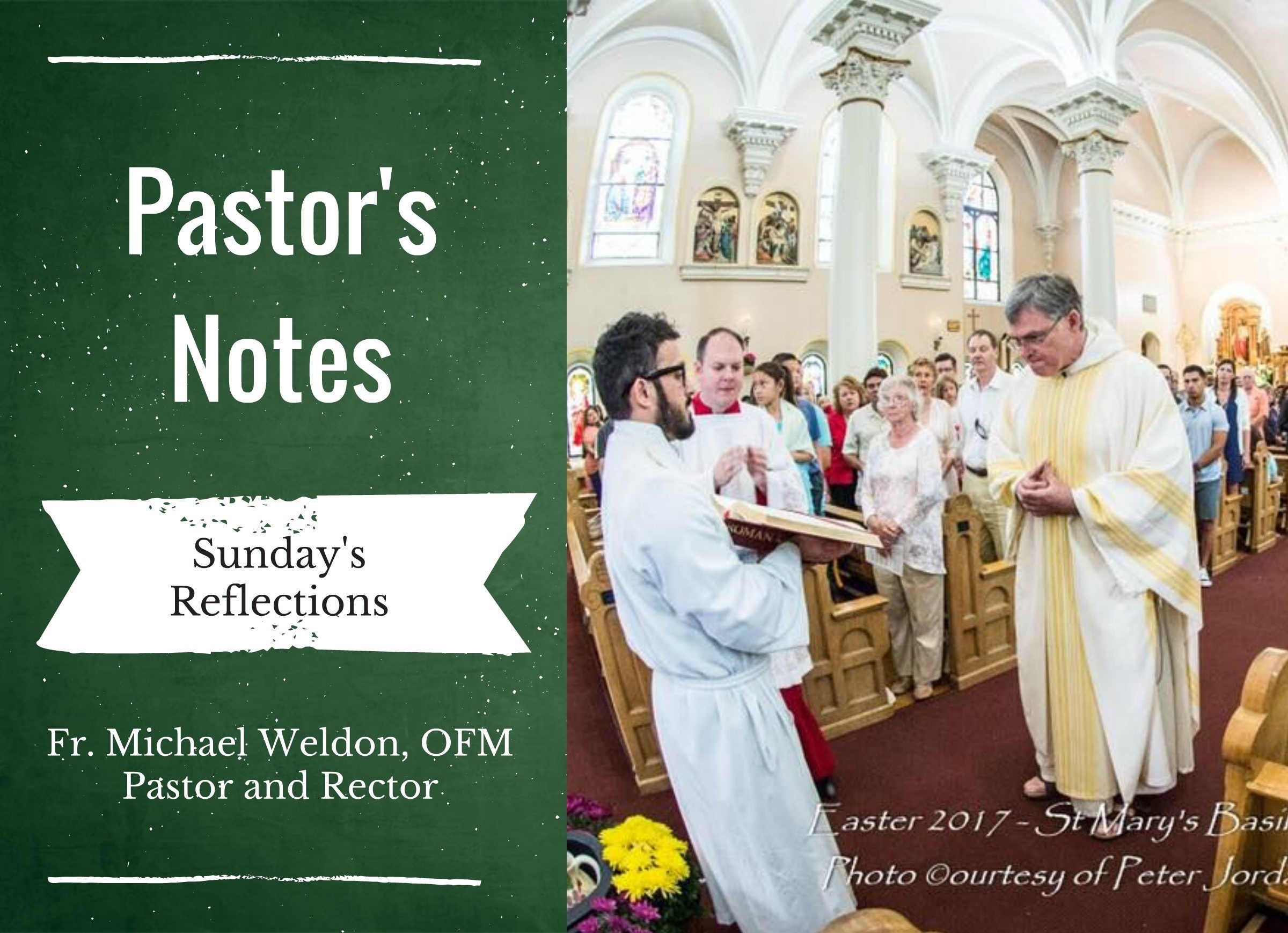 "Doors Thrown Open"
Burglar alarms don't work in Franciscan parishes. For 20 years or so, we have had them – just never turned them on much. In my last parish I think the friars kept setting them off. The local police got angry.
Today brings us to the end of the 50 days of Easter with the celebration of Pentecost. God's break-in is complete. But Easter is not yet over. We are still celebrating the Resurrection mystery. Pentecost is the feast of locked doors —suddenly thrown open! "On the evening of that first day of the week, says John's Gospel, when the doors were locked…" Jesus came and stood among them. Pope Francis has repeatedly called to let God out of the churches and into the streets of our world.
There was isolation, fear, suspicion, betrayals, abandonment and near despair behind those doors – all dismissed by a resurrected One whose first words are "Peace be with you." No recriminations. No finger-pointing. No blaming. "No come up-uns." Just words of forgiveness. Those terrified people could breathe again. Breathing is controversial this season. Jesus gives them his breath – a delicate and difficult image this 20/20 Easter season. How far we spray droplets in a song, or a sneeze is key to social distance from Covid-19. Jesus contaminates (That's right contaminates) the disciples with life…It was after all only recently returned to him in the resurrection. And he gives it to us!
Sometimes we forget to breathe. Sometimes in the midst of crazy lives, we forget to take a "breather." The epitaph, "I can't breathe," gives horror to the terror that has haunted Black Americans since the founding of this country and now attributed to George Floyd 's death. Every day the media fills us with so many things that knock the breath out of us. Racism since the founding of the US has impeded our breathing. Jesus breathed on his shame-laden disciples in St. John's account of the empowerment after the Resurrection. He shows them how to breath and linked breathing with forgiving.
The average person takes 600 billion of them in a lifetime. Few of them are noticed. It is an automatic response of our lungs. The whole body cooperates. From birth to death when we give it back over to its source. The Spirit of second chances still breaks down our overly alarmed doors with a love so vast, the ugliest kind of guilt and humiliation is instantly forgiven. The Spirit of new life rushes in like a great wind and embraces each one of them with a sense of peace, a SHALOM so profound that the doors of their souls fly open and a great fire lights their hearts.
Pentecost is not just something miraculous and stupendous that happened some 2,000 years ago. It's an event that keeps happening for all of us — now! Locked doors were blown open. Our ability to breathe restored. Pentecost promises us that the Divine Spirit can be released in each of us: the Spirit of fire that can burn away our meanness; the Spirit of wind that can sweep away our desire for revenge; the Spirit of wide-open doors that can usher us into an inner peace that can transform our hearts of hate. And perhaps even re-frame the structures of hate around us.
That Holy Breath of Jesus continues to fill human hearts and enkindle fires of immense love. "Let'er rip, God!" As this virus continues to bite at our health and communion, we ache for that energy. "Send forth that Spirit." There is much to renew these days across the face of Mother earth!" Keep praying with us as we enter Ordinary Times.
A gentle week.
Fr. Michael Weldon, OFM
Adapted from Celebration's Ted Wolgamot 2017 reflection for this week.