Dia de los Muertos Festival

The ninth annual Dia de los Muertos (Day of the Dead) Festival, which celebrates the memory of deceased loved ones, attracts crowds upwards of 10,000 people to St. Mary's Basilica, a Phoenix Point of Pride and historic building listed on the National Register. This family-friendly event in downtown Phoenix is free to the public. A donation of non-perishable food is suggested to benefit the St. Vincent de Paul Food Bank.

All are invited to experience the art of life, faith and remembrance with catrinas, mariachi, ballet folklorico, a local artisan market, free kids' activities, a lowrider/classic car show, and ofrendas (altars that honor the memory of ancestors). There will also be food trucks and live entertainment with Carmela y Más. Special guest musicians sponsored by Pepsi will grace the stage in the evening. A Local artists will create community ofrendas on which the public is welcome to place 5X7 photos (copies, not originals) of their deceased loved ones. Complimentary paper frames will be provided, and devotional candles to set on the altars will be available for purchase.
General Information:
Date: Sunday, November 6, 2022
Time: 11:00 AM to 7:00 PM
Location: St. Mary's Basilica Outdoor Plaza / 231 N. 3rd Street – Phoenix, AZ 85004
Cost: Free with a suggested donation of non-perishable food.
Featured Entertainment Artist
Carmela y Más
Carmela y Más takes the main stage at the ninth annual Dia de los Muertos Festival in Downtown Phoenix at 4:00 PM. This nine-piece Latin Jazz – Salsa band has graced many stages locally and internationally. A kaleidoscope of Afro-Cuban rhythms delivered in electrifying musical performances. Be prepared to dance and as we celebrate the art of life, faith, and remembrance.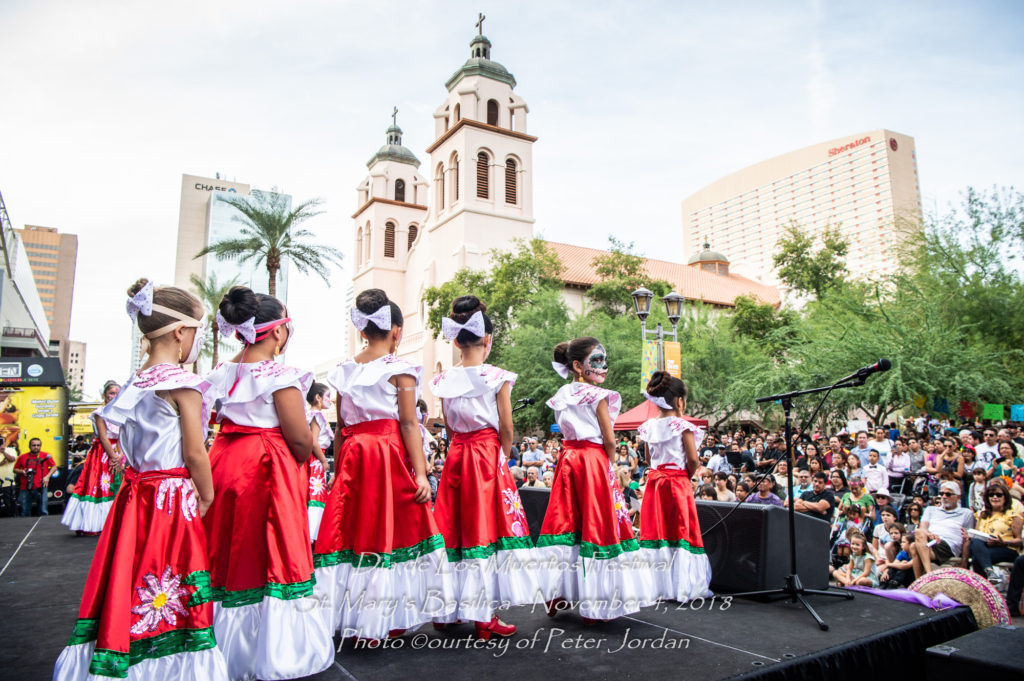 For More Information:
Media Contact:
Stephanie Romero
Phone: 602-412-7228
Email: ribodalromero@gmail.com