Dia de los Muertos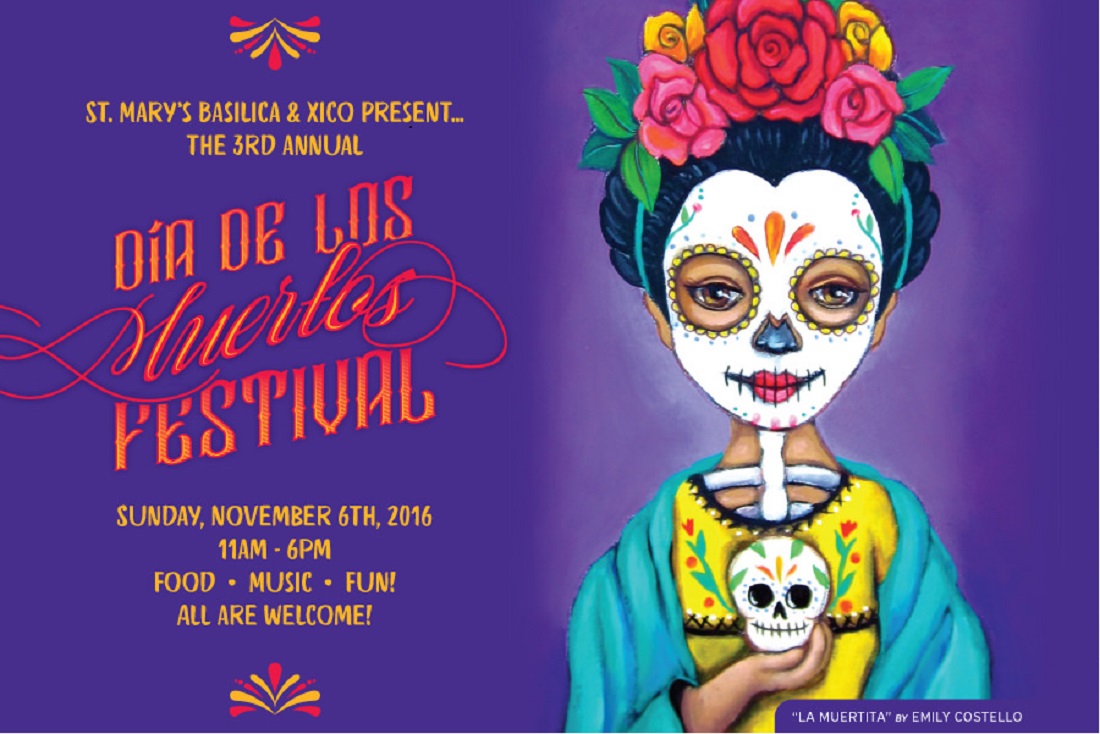 St. Mary's Basilica and Xico, Inc., a multidisciplinary arts organization created in 1975 by a group of local Chicano and Native American artists, are partnering once again to co-host the third annual Dia de los Muertos Festival in Downtown Phoenix at St. Mary's Basilica Outdoor Plaza, which is located at 231 N. Third Street in Phoenix, AZ.  The Family-friendly celebration is free to the public.  A donation of canned goods is suggested, which will benefit the St. Vincent de Paul Food Bank as they prepare to serve the community in need during the holiday season.
During the event, there will be children's activities, vendor booths, local artists, food trucks, health and welfare booths, a car show, children's essay contest, live entertainment, and a Dia de los Muertos procession, as well as a children's procession.  Attendees also are encouraged to bring photos of their loved ones to place on the altars around the fountain in the center of the plaza.  The altars will be blessed in remembrance of our beloved ones on this special day.
Save the Date:
Date:  Sunday, November 6, 2016
Time:  11 AM to 6 PM
Place:  St. Mary's Basilica Plaza / 231 N. Third Street Phoenix, AZ
Cost:  Free Admission.  A donation of a canned goods is suggested.
Website:  smbasilica.wixsite.com/smbxicoddlm
Information on Becoming a Vendor:
Please visit the the Dia de Los Muertos Website for more information on becoming
an artisan vendor and to download the registration form, which is due Friday, October 7, 2016.
For More Information:
Dia de los Muertos Organizer
Luci Perez
Phone:  602-354-2100
Email:  frontdesk@smbphx.org
Parish Manager
Jerome Doris
Phone: 602-354-2069
Email: jdoris@smbphx.org
Pictures from Last Years Event: